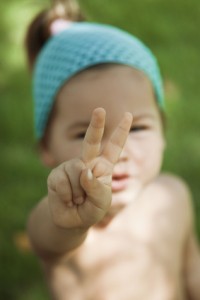 If I were running for WPO (World Peace Officer), this would be my campaign speech:
Make no bones about it… world. Things are going to get a lot worse before they get better. And I mean a lot worse. At times, we will wonder if it is worth the fight, as we lay down our weapons to shield the dust from our eyes that settles from the apocalyptic sky.

True peace only comes from within, within each one of us as individuals. Moreover, for that to happen, each society and thus its citizens must discover truth on their own. It must evolve and not be forced through punishments and rewards.

In the words of Steve Pavlina regarding reward and punishment structures of traditional religions, 'When you see enforcement based on the promise of rewards and punishments, you're not witnessing real truth. You're witnessing marketing masquerading as truth.'

A peace that evolves on its own, through evolution is the only long-lasting path to world peace. Forcing peace is a paradox. A paradox perpetuated since man began demanding more than his fair share of resources. A cycle that will continue until something great comes to pass, something with unfathomable depth and weight.

Most likely, it will be destructive in nature, the likes of which we have never seen or could have imagined. In the end, if anyone is left, love is all that will unite us. Love which first we found for ourselves through the greatest gift of all—desperation. From which will spawn true unconditional love and acceptance between all people regardless of race or religion.

In the meantime, we are all in this together, so we had better learn how to get along. Live long and prosper. Peace out.
So here it is, the key to world peace…. drum roll please:
Children. Teach our children to love and accept themselves for who they are as individuals. Self-acceptance leads to self-enlightenment, intrinsic love for oneself and thus empathy and compassion for others.
Media. Stop scaring everyone! Stop telling us how horrific we are, and start reminding us of how loving we can be.
The other night my wife and I watched the movie Watchmen. There was one line in there that really spoke to me. The character Rorschach was responding to a question about why he brutally killed a man who murdered a little girl: [Read more…]