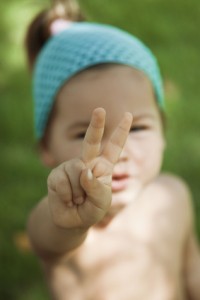 If I were running for WPO (World Peace Officer), this would be my campaign speech:
Make no bones about it… world. Things are going to get a lot worse before they get better. And I mean a lot worse. At times, we will wonder if it is worth the fight, as we lay down our weapons to shield the dust from our eyes that settles from the apocalyptic sky.

True peace only comes from within, within each one of us as individuals. Moreover, for that to happen, each society and thus its citizens must discover truth on their own. It must evolve and not be forced through punishments and rewards.

In the words of Steve Pavlina regarding reward and punishment structures of traditional religions, 'When you see enforcement based on the promise of rewards and punishments, you're not witnessing real truth. You're witnessing marketing masquerading as truth.'

A peace that evolves on its own, through evolution is the only long-lasting path to world peace. Forcing peace is a paradox. A paradox perpetuated since man began demanding more than his fair share of resources. A cycle that will continue until something great comes to pass, something with unfathomable depth and weight.

Most likely, it will be destructive in nature, the likes of which we have never seen or could have imagined. In the end, if anyone is left, love is all that will unite us. Love which first we found for ourselves through the greatest gift of all—desperation. From which will spawn true unconditional love and acceptance between all people regardless of race or religion.

In the meantime, we are all in this together, so we had better learn how to get along. Live long and prosper. Peace out.
So here it is, the key to world peace…. drum roll please:
Children. Teach our children to love and accept themselves for who they are as individuals. Self-acceptance leads to self-enlightenment, intrinsic love for oneself and thus empathy and compassion for others.
Media. Stop scaring everyone! Stop telling us how horrific we are, and start reminding us of how loving we can be.
The other night my wife and I watched the movie Watchmen. There was one line in there that really spoke to me. The character Rorschach was responding to a question about why he brutally killed a man who murdered a little girl:
Rorschach: You see, Doctor, God didn't kill that little girl. Fate didn't butcher her and destiny didn't feed her to those dogs. If God saw what any of us did that night he didn't seem to mind. From then on I knew… God doesn't make the world this way. We do.
When I was at my darkest moment and contemplating suicide, a few people came to see me. One person who did not try to rescue me this time was my mother. She prayed. She knew there was nothing she could do. Part of the gift of Life is the gift of allowing us to live it.
It is called Free Will.
Sometimes I just want to grab the world and shake it. Wake up everyone! Can't we all just get along?
Rodney King summed it up in a few simple words, "People, I just want to say, you know, can we all get along? Can we get along? Can we stop making it, making it horrible for the older people and the kids?…It's just not right. It's not right. It's not, it's not going to change anything ….Please, we can get along here. We all can get along. I mean, we're all stuck here for a while. Let's try to work it out. Let's try to beat it. Let's try to beat it. Let's try to work it out."
What a simple but powerful statement, "we're all stuck here for a while. Let's try to work it out."
I found this article by Douglas Noll titled "Why Can't We All Just Get Along?" It's quite amazing and pretty short so click here and read it! I'll wait… … …really you should read it… I know there's so much stuff out there to read just get on with it already!! I was the same way, I kept skimming the article to cut parts out and highlight but just found it was too good, so you should go read the whole thing.
The article talks about human beings and our ability to be rational that sets us apart from other species, and how the majority of laws and foreign policies are based off this premise that we are rational thinkers. However, the truth is that human beings are 98 percent emotional and about 2 percent rational. When faced with insecurity or anxiety, we have a choice between reactivity and reflection based actions. Our default mode being reactive if no choice is consciously made. From the article in case you didn't read it and again even if you did:
If the choice for reflection is made, we have learned to reflect, relate, and relax. The insecurity arising from a conflict situation is recognized as pointing to a pathway of growth towards greater peace and self-realization. We are led by our curiosity to discover something new, find what is lost, or complete unfinished business. Success leads us to wholeness, authenticity, power and wisdom.
The path, however, is not easy. From anxiety and insecurity, we experience inadequacy (we don't know what to do) and a drop in self-esteem (we don't feel good about self). We ride on a broad emotional river and often experience fear of death, a drowning sensation, being shaky, or cold. Along this journey, our fear reaction system could pull us off the path of peace.
At the end of this emotional drop, we end in a calm pool that represents the essential peace within us. In this state, we hold an unshakable foundation of belief in ourselves. We are authentic; we are present in the moment. We exhibit a full spectrum of self as robust, rainbow colored, and multi-faceted. From this place, we can be compassionate, tolerant, exhibit loving-kindness, and embrace peace. This is what I have observed many people experiencing as they engage in conflict resolution and achieve peace.
The part that jumped out to me was, "If the choice for reflection is made, we have learned to reflect, relate, and relax. The insecurity arising from a conflict situation is recognized as pointing to a pathway of growth towards greater peace and self-realization. We are led by our curiosity to discover something new, find what is lost, or complete unfinished business. Success leads us to wholeness, authenticity, power and wisdom."
I heard a recovering addict express what it meant to be reflective, something he learned through the practice of living on spiritual principles. I don't remember exactly how he phrased it, but the point is what matters.
Prior to recovery, whether I was actively in my addiction or not, everything I did was a reaction. You put in a quarter, I played B-12. You piss me off, you'd better watch out because yours is coming. I was predictable. Today, when I feel threatened or start to react, I pause. It is in that moment of pause and reflection that I become human.
That is just something to think about when we look at the first key to world peace, children.
Children
First let me confess something, I am a conservative. I was and am for the War in Iraq and Afghanistan. My views are changing however, and the reasons I am not against these particular wars are a little more complex than oil and power. Why do I feel the wars are necessary? To promote democracy. I know it sounds… well, conservative.
Democracy is a system of government in which either the actual governing is carried out by the people governed (direct democracy), or the power to do so is granted by them
OK, now I'll get into my rational view behind this. And I will say that it is shifting towards more of a pacifist view (its sort of a chicken or egg thing), but I'll get into that in a minute. So on to the first item on my list, children and their relation to democracy.
A few years ago I saw this special on 60 Minutes or some similar type show (I couldn't find it to reference) about Jihad and the way children in some Muslim countries are being taught to view the rest of the world. Children are taught to hate anyone who does not have their beliefs (infidel's) and ultimately to kill them. Children. How can we hope to have a peaceful future when the world's children are being taught hatred? It's scary, it really is. And yes some will argue that other groups are doing something similar with their teachings. I agree, but none of those that I know of, promote hatred and death. What they believe to be true, is just as true to them as what we believe.
This isn't just children of radical Islamic beliefs. I'm talking about children everywhere, and here in America. We need to teach or children about tolerance, love, and acceptance. That they are good enough just as they are and that everything they will ever need is within themselves. There is a big difference between self-esteem and selfishness. If I could make a blanket statement (or word) about the youth today, it would be entitlement. I get the feeling that most kids these days feel entitled to everything they have. It's a result of societies need to have more than our share of resources or "keeping up with the Joneses." Everyone is looking for validation outside of himself or herself (material possessions) which means more work and less time for our children. Our children then grow up looking for immediate gratification since they were raised on video games and YouTube. Then, as they get older, they reach a breaking point, become enlightened, and spend the rest of their life trying to rid themselves of material attachments. At least in my view the lucky ones do. The cycle needs to change. More self-love = more love and empathy for others.
A few years ago, I had a thought… amazing I know,  about getting children or young adults together from different countries. Initially I thought of a social network site focused on youth from around the world, specifically between American and Middle Eastern children. When I visited Russia as a teenager, we meet with hundreds of young adults our age and the atmosphere always seemed happy and accepting. We realized we had more in common with each other and did not really understand why our countries leaders could not just get along. It seemed so simple as young adults. It would seem that if we could just get our children together, before their minds are corrupted by years of jaded views of the world and belief systems, something great might happen.
Now back to democracy. By promoting democracy, we allow the human nature of wanting to be free and self-realization a better chance of emerging. Some of these cultures have never known what its like to think for themselves, so they have no comparison. Take for example a primate or tiger brought up in captivity (I apologize for the human to animal comparison), which has known no other existence and for all it knows, the cage in which it lives is the entire universe. Yet somewhere in its soul, it must feel there is something else out there. And yes I realize this is an assumption, but stay with me. Now, let that animal out, and they often try to get back in. For that is where they feel comfortable. Reintegrating them into the wild is an extremely long process in that they have to be taught to think for themselves; how to hunt, gather, seek shelter, etc. As a former zookeeper and specifically a primate keeper, I witnessed some interesting things in regards to captive animals. I realize it is a stretch to compare captive animals to humans. But aren't those who are forced to believe certain things about the world around them, in some way, being held captive?
I know what you are thinking; I'm contradicting myself by proposing the spread of democracy. What about the reintegration topic and forcing beliefs? This is where the chicken or the egg thing comes into play. A few weeks ago in 100 Secrets on Finding Happiness, I talked about "if nothing changes then nothing changes." That in order for me to even have a chance of learning how to swim, at some point I was going to have to stop the car and get out. There has to be something to break the cycle of some of these nations and people living under the veil that they have freedom. Sure, they may not want it once we leave, but at least we gave them a chance at something they never would have had. Why do you think there aren't car bombings in America everyday like in other countries? Because we as free individuals wouldn't put up with that shit! Period.
The key is to get civilizations to desire freedom for themselves as individuals. Freedom realized through self-expression and freedom of speech. Things found mostly in democratic countries. As far as I know.
Let me state here that I'm not a historian or know anything about what peoples lives are in most other countries. My only experience outside the U.S. is I spent a month in the Soviet Union (USSR) back in 1989 and have visited several of the Caribbean Islands and Mexico since then. I found Russia to be generally gray in color and depressing. However the people, were people just like you and me. They were welcoming and warm. I quickly realized how fortunate Americans are and that things such as toilet paper were considered a luxury.
Back to Noll's article, how do we get the world to "reflect, relate, and relax?" I used to believe that promoting democracy was the answer. Civilizations, which are being held captive by limiting their views and stunting their intrinsic desires, need to be free. How can we stand by and watch as a dictator ruthlessly kills his people? What does that make us as humans to stand by and watch as our neighbor is being bludgeoned to death while we watch and do nothing? The moral thing to do is stop it right?
The pacifist would argue that violence only perpetuates more violence, and to some extent, I would agree. Yet we're back to the chicken or the egg thing again. What about those who are too weak to fend for themselves? Do we chalk it up to survival of the fittest or evolution?
In my journey to overcome my personal issues and discover how to be happy, I resisted all suggestions or even forced directions of change. People smarter than me told me over and over what inner-peace looked like. However, I would not listen until my life depended on it. Not until I had, as they say, reached my bottom, and was willing to surrender was real, long-lasting, significant change possible. The key is getting the children to learn, at an early age what freedom looks and feels like. Alternatively, letting civilization, as we know it, hit bottom.
Peace that evolves on its own, through evolution is the only long-lasting answer to world peace. Forcing peace is a paradox and as long as it continues, the cycle will continue. I don't think we should leave the Middle East or other conflicted areas because we should "mind our own business" or let them "fend for themselves." And there is no doubt in my mind that if we give up the fight and leave, things will get worse long before they'll ever get better. Nevertheless, it seems that we must at least give people a chance to experience what freedom feels like.
Sitting by and watching as a world destroys itself is tough and hard, yet at times seems necessary. I can only imagine how difficult it was for my mother to watch me kill myself—just hoping that I would surrender and give up the fight. I had to surrender to win, and I have won everything. I believe that is how God views us as we all destroy ourselves.
Children are crucial to world peace for they hold the views of our future. We must teach them how to get along, not by forcing our will on others, but by example. Moreover, even though I do believe that violence only breeds more violence, at some point the cycle has to change. Maybe our children will be able to accomplish this where we have failed.
Media
My wife and I refuse to watch the local news. It is disgusting—everyone running around in fear. The night we decided to start boycotting the news, we were talking about how you'd think the sky was falling. A few nights later, just as we were turning the TV off, we caught a preview of the big story on the nightly newscast, "Mystery Fireballs Fall from the Texas Sky." We immediately looked at each other and busted out in laughter. It's so cool having someone that thinks the same way.
Remember the part in Noll's article, "Along this journey, our fear reaction system could pull us off the path of peace." The media makes a living of pulling every human being off the path of peace through constant fear. Think about the 24-hour news cycle that resulted after 9/11. Today, we have fear fed straight into our living rooms 24-hours a day! I realize this is not actually the media's fault; they're only broadcasting what people want to watch. It's a business. "If it bleeds it leads." Personally, I have been through that "emotional drop" that Noll talks about and found the calm pool of peace within myself. And guess what? As a result, I no longer watch the news! I avoid exposure to forces that pull me off the path of peace. The more we as humans move onto the "pathway of growth towards greater peace and self-realization," the less we'll allow media to pull us off our path of peace. People will stop tuning into the fear and media will have to start broadcasting something else.
The media needs to stop scaring everyone. It's no wonder violence runs rampant on the streets these days, every one is freaking out! My wife and I often talk about starting a media company that goes up against local news stations and highlights only positive news. There are miracles and amazing things happening in the world, I wish we could get more people focusing on those. But until its what people want to see, nothing will change.
So that's it, the key to world peace.