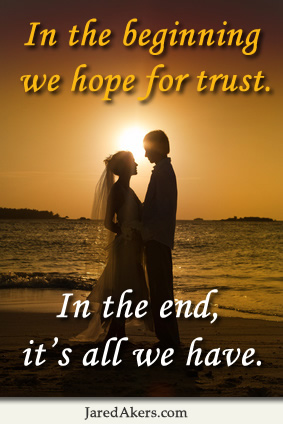 I've had the experience of being in two marriages.
Well, the first one ended in an annulment 6 months into it so "technically" we were never married, but we were both unhappy.
Today, I've been happily married for a year and two months. You may be asking yourself, "What does this guy know about finding happiness in marriage?"
That's a good question, just read on and make up your own mind.
Before we get into how to find happiness in marriage, it's important to provide some personal history about myself. In doing so, I hope to help others realize why they may currently be unhappy; and ultimately how my wife and I have found happiness in our marriage.
For most of my life, my relationships lasted—on average—six months. It seems that whenever someone got too close, I found ways to end the relationship. Most generally it was the, "it's not you it's me" line. However, I failed to realize this was what I was doing.
I felt as if the relationship was cutting into "me" time and was getting in the way of my goals. I did not want to put in the time it took to build healthy relationships with the opposite sex. Of course I wanted someone to love and cherish me, but when they started talking about marriage or long-term commitments, I usually started thinking about ways to get out of the relationship.
Consequently, this led me to have one-foot-out-the-door in relationships and emotionally unavailable. In reality, I didn't know enough about myself to know what I wanted and needed in a partner or spouse. [Read more…]