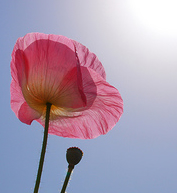 Two nights ago it happened.
My wife and I had just finished dinner and I was watching TV when I was consumed with this overall feeling of dread.
Doom and gloom from out of nowhere.
I could not put my finger on the reason why, but I was overcome with this feeling of hopelessness and that something in the universe was not right. There was a disturbance in the force or as Obi-Wan put it "I felt a great disturbance in the Force, as if millions of voices suddenly cried out in terror and were suddenly silenced. I fear something terrible has happened."
OK, that's a little dramatic, but sometimes it can certainly feel that way when you're normally brimming with gratitude.
So I laid back on the couch and just felt it. I considered grabbing a pen and paper and writing a gratitude list, knowing the action would help and then I could share how I "walk the walk." But I didn't, instead I used the power of now and then went through a mental list of all that I was grateful for such as my wife, granddaughter, parents, job, legs, food, home, etc. and that all my basic needs were met.
I know I talk about gratitude a lot, but it is important. Get used to it.
"Gratitude unlocks the fullness of life. It turns what we have into enough, and more. It turns denial into acceptance, chaos to order, confusion to clarity. It can turn a meal into a feast, a house into a home, a stranger into a friend. Gratitude makes sense of our past, brings peace for today, and creates a vision for tomorrow."
-Melody Beattie
Chris Guillebeau of The Art of Nonconformity, listed three parts of gratitude in his Zen Habits guest post, "Three Truths to Help You Create a Life of Gratitude"
A life of gratitude is composed of three parts that combine to make a whole.

1. A sense of purpose in our lives

2. An appreciation for the lives of those around us

3. A willingness to take action to show the gratitude we feel
Finding A Sense of Purpose
Finding a sense of purpose in one's life is no small task. For most of my life, I thought "the purpose" was to find happiness. This thinking simply brought on years of self-will and wrestling with most forces in life. Through the gift of desperation, I realized a life run on self-will alone puts me in conflict with the universe and everyone in it. Think about it, if we're all trying to run our lives on self-will, getting the most out of life for ourselves, who's looking out for each other?
It's like when my wife and I go to Home Depot on the weekends. It's really quite funny. We get all dressed up and looking nice just in case someone sees us. I mean really! Isn't everyone else just going around doing the same thing—wondering how everyone sees them? (OK, maybe not…) The good thing is we're able to laugh at ourselves about it.
Finding a sense of purpose can be as easy as doing what makes you happy. I found that living a life based on spiritual principles and helping others as much as I can makes me happy. That life is not a search for happiness but a by-product of right living. I used to think I had to change the world, you know, really make a difference! Today I look for my life purpose each and every day. My morning prayer is, "God, show me what you will have me do today and give me the strength and willingness to carry it out." When I approach each day with this attitude, anything is possible!
Appreciate Those Around You
Appreciation is an action, look at those around you in everyday life and see what you can do to make their lives better. Here's something to try. The next time you feel frustrated, angry, or upset because you feel someone just doesn't understand, try being understanding rather than understood.
Bringing joy to those around you is a great way to show your appreciation for them. One of my favorite parts of the movie The Bucket List is when Carter poses the two questions which are asked of Egyptians entering heaven: "Have you found joy in your life?" and "Has your life brought joy to others?" Bring joy to others and you'll find joy yourself.
Gratitude is an Action
I love it, just love it—anything to do with action! I use to think about getting flowers or a gift for someone, but never really took any action. I was too busy achieving happiness. People's happiness comes from my actions, not my intentions. I refer to those days as my ten dollar days. I would never put more than ten dollars worth of gas in my car at a time. I had the money, just no patience—always in a hurry to someplace to do something for myself. It is simple—doing things for others shows them you appreciate them.
There are so many ways you can take action to show gratitude, such as how you treat yourself and your possessions. Are you grateful for your life and your body? Trying exercising. Are you grateful for your car? Try washing it. Are you grateful for your clothes? …OK, I didn't really think "try washing them" would be that impactful so how about this… If you're grateful for having more than enough clothes, give some of them away to a local shelter.
I try to hold fast to the truth that a full and thankful heart cannot entertain great conceits. When brimming with gratitude, one's heartbeat must surely result in outgoing love, the finest emotion that we can ever know."
-Bill Wilson
So as I lay there on the couch and think of all that I am grateful for, the feeling of dread lifts just a little. I got on my knees and said a simple prayer, "God, thank you for your Grace and Confidence" and went up stairs to share my feelings with my wife. (I share everything, it's good practice for when I'm making unreasonable demands of myself) She kisses me and tells me she loves me—it lifts a little more.
From experience I know that emotions are just emotions, that they change, and that This Too Shall Pass. The next morning I rise and am grateful for another day as a flower is for the sun.
Asking for Help
When writing about a topic I think up a ton of other things to write about.
One that immediately comes to mind is the powerful realization that emotions do not last forever. I suppose it may feel that way for some.
I remember when I was suffering from depression, and the constant feeling of doom I carried in my soul. I had no purpose for my life, no gratitude, and felt those feelings would last forever.
I can relate to those who may feel such emotions for extended periods of time and how suicide can seem attractive.
OK, I realize that is a bold statement, but there was a time in my life when suicide was a very real option. That is when I asked for help and was desperate enough to do whatever it took to get better.
If you feel hopelessness and despair, please ask someone for help. It's out there and there are people who truly do understand what you're going through. I still get those feelings from time to time, so I have accumulated a set of tools that I pull out and use—like gratitude! And I tell myself, this too shall pass. If in the US, call 1-800-SUICIDE. For international help, please visit http://www.suicide.org/international-suicide-hotlines.html
photo credit: furbychan