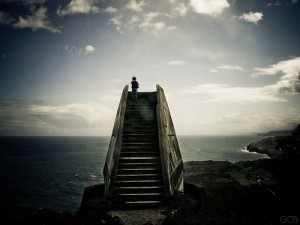 Most fear is an illusion. False Evidence Appearing Real. The things that I fear are created in my mind. Most often, they are based in fear of loosing something I have, or not getting something I think I want. I stress the word think here… more often than not, what I want is not what I need. In learning how to be happy, it's important to be able to determine the difference.
"Fear knocked at the door and faith answered. No one was there." -Old English Proverb Click to Tweet
Fear is natural, it is meant to keep me safe. The majority of times, however, my fear is unjustified. Why? Because I fear something that has not, or may not even happen. Which is a valuable tool and lesson I learned when getting over my fear of public speaking. The fear may be based on a past experience that I'm projecting as the possible outcome of a current one. Due to unrealistic expectations, I feared the outcome because it was not what I wanted. Or at least thought I wanted… but it has always been what I needed. I just have to let it take me to where I'm supposed to be.