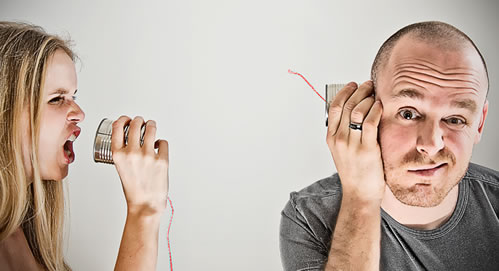 In a recent job interview I was asked "what are you best at?" My answer was communicating, inspiring, and remaining calm under pressure. The next question was, "how much time do you spend doing those things in your current position?" My answer… hmm, well, at first I said none but then changed it to maybe 10%. After which I shifted in my seat, gave my real serious look and said, "Here's the deal… I wake up each morning and remind myself I'm here to be of service to others; and that I can be of service regardless of my job title." Also known as—I'm an optimist and make the best out of any situation—speech. It became obvious I wasn't currently in a position—professionally—to excel at what I do best. Since then I've been thinking about something…
How did I develop good communication skills?
The answer: getting to know myself and practice.
The ironic thing is I used to be a horrible communicator. The trail of failed relationships in my past is testimony to that. How did I go from captain (mis)communicator to where I'm at today? A place where my wife—just a few days ago—asked me, "How did you get so good at relationships and communicating?" I thought for a quick second and realized it wasn't something I set out to accomplish; it was a by-product of self-acceptance and developing a healthy relationship with self. Becoming a good communicator was sort of by accident…
There is no shortage of top-ten lists or keys to effective communication on the web or your local bookstore (Let me Google that for you). I rarely research my topics—anyone can give you keys to effective communication—what I offer is actual experience and what has worked for me. So here are my suggestions, based on my experience, on developing good communication skills.
Disclaimer: Sometimes I still suck fail at communicating effectively. Although I am better at identifying what's hindering my effectiveness (e.g. fear, ego).
Know Yourself
The single most effective way of relating to others is being in touch with our own emotions. I remember hearing the term get it out of your head and into your heart. It confused the hell out of me as I had no idea what they were talking about. In trying to think of a way to explain this, the simplest thing I can think of is: it takes one to know one.
The more we learn about ourselves as individuals, the better we understand others. It just makes sense, it's logical. It's like learning to speak the same language. Thus we're better able to communicate.
Listen
We spend most of our time waiting for our turn to speak rather than listening. I'm still guilty of this from time to time. You know… that little voice in your head that's suggesting something fantastic to say if they'd only stop jabbering for a minute so you can wow them with your brilliance? The moment the voice (ego) weighs in we tune out.
Here's what I do:
As the voice starts to speak up, I recognize it and quickly tell myself (silently of course), "if it's that important, God will put the words in my mouth when its time." Then I try and get back to listening. Maybe you're thinking… how can you be listening if you're talking to yourself? Good question, it gets easier with practice—recognizing the voice, silencing it, and having the faith it will speak up when it's time.
When we're really listening, we identify better with a person's emotions and experiences. See again how this all comes back to truly knowing ourselves! The ability to connect on an emotional level creates sincerity in the conversation. I have a friend who's really good at this… he makes you feel as if you're the most important person in his life at that moment.
Stop Judging
Most people don't realize how visible their opinions are when communicating. We'll get more into this when talking about body language, but when we're judging someone, it shows. Again, this comes back to truly accepting ourselves. If we're insecure or unclear of our own identity it's easier to look for flaws in others.
Our ego gets involved and looks for ways of elevating us above the other person. "You're stupid for doing it that way; this is how you should do it." Self-righteousness will come through in our communication and create conflict between those involved.
Until we get the ego out of the way, we're not really communicating; we're just feeding our looking-good racket. Even the best communicators can really suck at it sometimes; emotions and ego often get in the way and cloud our judgment.
Be Understanding Rather Than Understood
Being understanding rather than understood is a passage I love from the Prayer of St. Francis and can literally change your life. Knowing and understanding self greatly increased the ability to understand others. When communicating, try and put yourself in their shoes. Granted this might be difficult if you've never experienced something similar, but try and relate to the emotions you hear them expressing. If you're in touch with your own emotions, it's easier to get a feel of what they're going through.
When was the last time you really tried to convince someone of something? Something you knew in your heart was the right thing to do but they just couldn't understand or balked at your suggestion or advice. It can be really frustrating.
Now, think about a time when someone was giving you advice or a suggestion. Maybe deep in your gut you felt true to the way you were approaching the situation. There was just something inside that insisted the other person didn't know what they were talking about.
Now apply that same feeling or situation to the person you're trying to persuade. Be understanding of their situation rather than insisting they just don't understand what you're trying to say. If you're thinking, "they just don't get it," then you're not communicating effectively. More importantly, it's not your job to make them get anything; that's their job. Just listen and give suggestions based on your experience.
I don't know about you, but the most effective change I ever made was when I realized I didn't have the answer and asked someone I trusted for help. The best thing you can do is show your expertise in a certain area by actions. Trust me, if someone needs or wants something you have, they'll ask for it when ready. People are ready for advice and suggestions when they ask! Insisting they take you're advice before they're ready will only push them away. Sadly it usually takes emotional pain for most of us to be ready.
Validate Emotions
One of the biggest mistakes I made in previous relationships was the inability to accept my partner's emotions. Here are a couple comments that may sound familiar:
"I can't believe you feel that way."
"You shouldn't feel that way."
"Obviously you misunderstood me if you feel that way"
Hogwash and total bull crap! (I know, I have such a foul mouth) Insisting that someone shouldn't feel a certain way is like telling them they shouldn't breath. If you feel it, then it's valid! Emotions are neither good or bad, wrong or right, they're just emotions. What we need to look at is the underlying cause of the emotion. As communicators, we have an opportunity to help facilitate the discovery process. We have to be careful here though… as the underlying cause may be something we have done (more than likely it's due to our poor communication). This is where our ego steps in to protect itself and sabotage the communication. It may insist they shouldn't feel that way… surely they misunderstood.
Give people the dignity to own and feel their emotions.
Body Language
There's an entire science behind body language (actually I don't know if there is, that just sounded good and I couldn't find an actual "science" via Google). Point being, it's a broad topic and one I find interesting. I'll just touch on a few things I practice or have learned.
Whether we know it or not, our body is giving off signals as to how engaged we are in communication. For example, having your arms crossed sends a closed off and unreceptive signal while an open stance sends one that is more inviting. Pay attention to how you're standing or sitting when listening to someone.
Great communicators listen well and stay engaged in the conversation. I have a tendency to tune-out sometimes and stop "really" listening halfway through a conversation. I may fiddle with my cell phone, try to listen to the TV or something in the background, or just gaze while the other person is talking. The gazing part is a response to my brain tuning out; either to listen to something else or chatting up a storm about my response. People pick up on that. At least I know my wife does because she'll start saying things like "so I mowed my tongue today" just to see if I'm listening. Trust me, if she notices, so do other people. Even though I still do this at times, I'm better able to catch myself and re-engage in the conversation—hopefully before they notice I left.
When I was a restaurant manager I learned to read the body language of customers. You can tell when approaching a table if they're engaging people or just want to be left alone. You can tell, just by watching, what they need. Maybe they're looking at their hands and wish they had another napkin or swiveling their head looking for help. Likewise, people give off signals as to what they're feeling.
It goes back to the idea; it takes one to know one. Being in-tune with our emotions helps us feel the energy and emotions of others more easily. Those emotions come out in eye movements, hand placement, and all sorts of subtle changes in body language.
Remember the saying; Get it out of your head and into your heart? As we improve in all areas of communication through self-awareness, we can actually move past verbal communication alone and actually begin to feel conversations. It's hard to explain. If someone is hurting you can feel it as it comes out in their body language and expression; likewise with joy and happiness.
Reduce Emotional Investment
This may be the most difficult area to master and one which many of you might disagree.
Having an emotional investment in the outcome of an interaction or conversation with someone increases the chance that our communication will be tainted by our ego's agenda.
If you take my advice then I am right and I am a good person.
If we're emotionally invested in the outcome of an experience or conversation, our ego or motive is driven to control the outcome in our favor. If we feel disliked or have a low self-esteem, we're likely to sway the conversation towards something that will make us look good. This is normal and still happens to me all the time. I'll often walk away from a conversation realizing I just made the exchange all about me. This is when I can determine if I need to apologize or connect with them again briefly to let them know I heard what they said and was taking them seriously.
To be emotionally detached from the outcome of a conversation does not mean you don't care. It means that no matter what the outcome, you're still able to maintain an overall sense of inner-peace and emotional stability. For me, getting to a place where happiness and peace is not contingent on outside sources is the goal. Some day's I'm closer to that goal than others; consequently my communication is better. The more in-tune I am with my inner voice, emotions, or "gut" the better I am at communicating. That's why prayer and meditation are an important part of my day. If my head is full of crap spinning around, I'm probably not going to be a very good communicator.
Communicating with a Partner or Spouse
This is where everything gets deep and we must rely more than ever on love and acceptance of self. This is where the rubber hits the road and we practice faith in ourselves and God's love for us.
As we grow and mature spiritually and emotionally, we become more open, honest, and secure with who we are as individuals. This results in less need for outside sources for validation and acceptance. Thus we're better able to give and receive love—unconditionally.
It is a beautiful thing when two emotional mature human beings share themselves with each other—which is how I view my wife and I today. The reason we communicate so well is we are both secure with who we are as individuals—separate from the other. Make no mistake about it though, we do have differences of opinions and sometimes even heated discussions. But we truly respect each other and only want what's best for us and our marriage. This means sometimes deciding to be happy rather than right.
The faith comes in when sharing feelings, thoughts, or emotions with your partner; in faith that we are loved unconditionally by God. Now most people would say "don't you mean loved unconditionally by your partner?" Surely you would hope so, but love and acceptance for self begins with the belief that we're loved unconditionally regardless of our circumstances. The point here is that when we share our lives and inner-most feelings with someone (anyone), we must feel somewhat complete and whole—or we're going to filter what we share in fear we won't be accepted or loved. Have you ever shared just enough of something with your partner to see what their reaction is going to be? Then, based on how they react, alter what you say or do?
One HUGE breakthrough in my ability to communicate effectively with my wife (shortly after we first met) was the day I took a chance. A chance that even if I shared my inner-most feelings, emotions, fears, etc. that she might just stick around. This worked because I was already OK with myself and knew I would be fine if she left or thought less of me. Sure it would suck, but the reality was, my inner-peace and clear conscience meant more to me and was bigger than any one person or relationship; regardless of how much they meant to me. So I had faith, took a chance, opened up and was completely honest. A funny thing happened, not only did she stick around; she was inspired and loved me even more for being honest.
Your homework; is to practice an ancient Sufi tradition: In your life together, speak words to your beloved only if they can pass through 3 gates: First, is it truthful? Second, is it necessary? Third, is it kind? If your words are truthful & necessary & kind, then the love you have maintained up until today will be nourished and continue to grow & your name will continue to remain safe in your beloved's mouth.
-The Guaranteed Way to Never Say Something You'll Regret!
Granted this is a lot easier said then done. Even though I know this whole concept in theory, I still fall back into old habits sometimes. Or I should say old fears.
It's been my experience that being completely honest about everything is a lot easier. Although I do believe it works best when the individuals involved are secure with themselves and emotionally mature. It takes a certain level of emotional maturity to not take everything your partner says personal. If you really want your partner to be completely honest and open with you, make sure they know you love them unconditionally no matter what. I guess you'd better make sure you do though… because it will show.
A therapist told me once I suffered from conflict avoidance… the term is pretty self-explanatory. Although I thought the word suffer was a little extreme. Anyway, I would bet most people would rather avoid conflict—I know that's not always the case but we'll leave the discussion of what their payoff is for another time. The important thing here is paying attention to how you react to what your partner is communicating. If you're reaction is negative, they're liable to avoid sharing such information with you again. I know this seems illogical and practically impossible to follow; not showing deep emotion when someone shares something hurtful with you. But if we're coming from a place of love and acceptance, there really isn't anything that can cause us harm. Plus, we cannot change what the person has already done. What we can control is our reaction and what we do from this point forward.
One technique I use when learning of something that may seemingly be hurtful to me, is ask myself: have I done the same thing? Chances are, at some point in my life I have done the exact same thing or something similar; this allows me to be understanding and empathetic.
I used to hate the question, "what are you feeling?" The truth was I just didn't know. So I made up something; usually something I knew they wanted to hear. I didn't know who I was as a person and continually searched outside myself for happiness and acceptance. The result was terrible communication since every conversation was conducted by my ego trying to keep itself safe.
The Bottom Line
If you want to develop better communication skills, start building a healthy relationship with yourself. Start by opening the lines of communication with your inner-self. After all, you have to be with YOU more than anyone else; you might as well learn how to get along!
What skills do you practice to become a better communicator?
Oh, one more thing – I got the job!
photo credit: joshfassbind.com