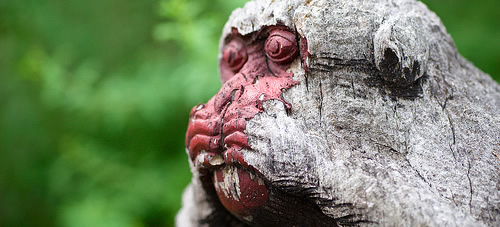 Today is December 3rd. I actually wrote this post last week… because on December 3rd I'll either be relaxing on the beach reading or drift diving above the beautiful reefs of Cozumel MX. December 2nd is my wife and I's one year wedding anniversary. We were married at Lydgate Beach on Kauai in the early morning of Dec. 2nd 2008 by the amazing Rev. Caroline Miura of Sacred Ceremonies. In attendance were myself, my wife Emily, Caroline, God, and several wonderful guests (chickens) who enjoyed cake after the wedding. It's been an amazing year and I'd like to share something with everyone that was read as part of our wedding ceremony:
Your "homework" is to practice an ancient Sufi tradition: In your life together, speak words to your beloved only if they can pass through 3 gates: First, is it truthful? Second, is it necessary? Third, is it kind? If your words are truthful & necessary & kind, then the love you have maintained up until today will be nourished and continue to grow & your name will continue to remain safe in your beloved's mouth.
This test of what should come out of our mouths is an amazing exercise in any situation. Let's use this test on an often debated question:
"Do these pants make my butt look big?"
Now, let's run this through the 3 gate test.
It it Truthful?
Well, it may be true, his/her butt may look big. OK, so check that one off, if you believe it to be true.
Is it Necessary?
This is where some debate comes in, on whether kind should be second or necessary. (OK, the only debate going on is with myself) I know I'm way over analyzing this but bare with me. I usually put "is it kind?" second. However, kind can be subjective and interpreted many different ways. Regarding the question above, being honest with someone about their butt size may seem like being kind. That you're being truthful and in a loving way helping motivate them to either loose weight or get some different pants. Putting necessary second really does a good job of eliminating things which may be subjective when it comes to kindness.
Is it Kind?
Speaking out of kindness is a guaranteed way to never say something you'll regret. Recently someone approached me to ask if I would participate in a "roast" so to speak. They wanted me to get up in front of a group of people and sing a theme song to a popular 70's show but with the lyrics changed to poke fun at someone else. I know these people have tremendous respect for the person, as do I, but after careful thought I used the 3 gate test and declined the request.
No matter how you run your response through the 3 gate test, it really works. Even if you think something may be kind, is it necessary? Stop and think how you would feel if someone said that to you? Use this test to avoid saying things you'll regret!
For those who like visual's, I created a flow chart to illustrate the simplicity of the test: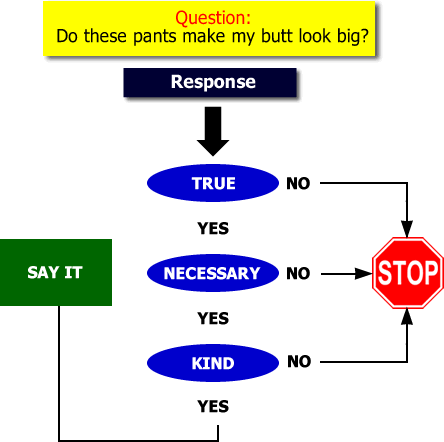 So the next time you're not quite sure if you should say something or not, ask yourself three simple questions: Is it Truthful? Is it Necessary? Is it Kind?
photo credit: shibamata