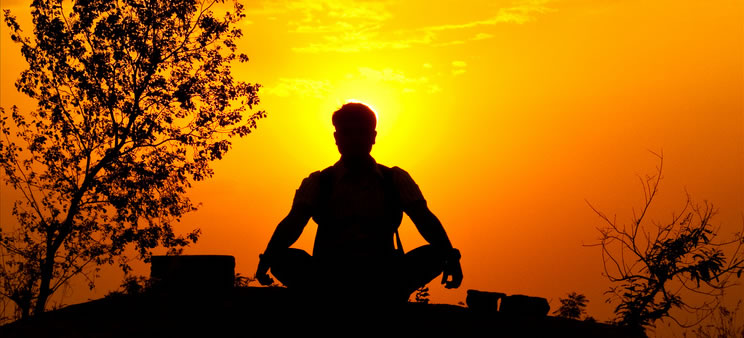 Love yourself and love for others becomes automatic.
"My religion is very simple. My religion is kindness."
-Dalai Lama
While researching the term mindfulness as it relates to kindness, I came across an amazing little book titled Mindfulness in Plain English (Amazon *see bottom of post to find out how you can read it online for free) by Ven. Henepola Gunaratana.
Henepola Gunaratana was born in 1927 and became an ordained Buddhist monk at the age of 12 in Sri Lanka and has been teaching and learning ever since; let's just say he's qualified.
Since mindfulness is an essential aspect of practicing kindness and meditation facilitates mindfulness, I figured what a better time and place to talk about mindfulness and the benefits of meditation. Plus I couldn't wait to share all the amazing things I discovered in this great book!
Buddhism and Types of Meditation
Buddhism really addresses two major types of meditation, Vipassana (insight) and Samatha (concentration or tranquility). Neither of which I knew much anything about until reading Mindfulness in Plain English. I have always considered myself as one to practice meditation using some personal techniques; I work on my breathing and spend time in prayer… basically my theory on the subject is payer is asking for guidance and meditation is listening for the answer.
Mindfulness in Plain English looks at Vipassana meditation practice which translated means insight: a clear awareness of exactly what is happening as it happens.
From the book:
The Vipassana meditator uses his concentration as a tool by which his awareness can chip away at the wall of illusion which cuts him off from the living light of reality. It is a gradual process of ever-increasing awareness of the inner workings of reality itself. It takes years, but one day the meditator chisels through that wall and tumbles into the presence of light. The transformation is complete. It's called liberation, and it's permanent. Liberation is the goal of all buddhist systems of practice. But the routes to attainment of the end are quite diverse.
To truly be aware of how we're treating others, we must be mindful of how we're treating ourselves. Learning how to look at our life in this moment—reality—and find the kindness and beauty around us is essential in conveying kindness to others.
Vipassana meditation is not an attempt to forget yourself or to cover up your troubles. It is learning to look at yourself exactly as you are. See what is there, accept it fully. Only then can you change it.
The book starts off with the simple question: Meditation: Why Bother? It brought up some really interesting topics on why people even need to mediate; after all, it takes time, energy, and as the author Henepola describes "gumption."
So why bother meditating?
Simple. Because you are human. And just because of the simple fact that you are human, you find yourself heir to an inherent unsatisfactoriness in life which simply will not go away. You can suppress it from your awareness for a time. You can distract yourself for hours on end, but it always comes back–usually when you least expect it. All of a sudden, seemingly out of the blue, you sit up, take stock, and realize your actual situation in life.

There you are, and you suddenly realize that you are spending your whole life just barely getting by. You keep up a good front. You manage to make ends need somehow and look OK from the outside. But those periods of desperation, those times when you feel everything caving in on you, you keep those to yourself.
We Spend the Majority of our Lives Chasing or Avoiding
"The essence of our experience is change. … Perpetual alteration is the essence of the perceptual universe." Everything around us in life is changing; our friends, finances, etc. no two moments are ever exactly alike.
Now, really think about this idea… we label these experiences, mental images, or moments as good, bad, or neutral and spend the majority of our time either rejecting bad or grasping towards good.
When we have a good experience we spend time and energy trying to hold onto it; fondling it, or figuring out how to re-create it. Conversely, we spend just as much time running away or trying to avoid those experiences labeled as bad.
All the other stuff, or the majority of the experiences we perceive as neutral or boring, we pack away to look at or examine at another time—if ever—so we can get back to the drama and action of avoiding or pursuing.
The direct result of all this lunacy is a perpetual treadmill race to nowhere, endlessly pounding after pleasure, endlessly fleeing from pain, endlessly ignoring 90 percent of our experience. Than wondering why life tastes so flat. In the final analysis, it's a system that does not work.
That precisely describes my life for so many years. Even though I would experience moments of joy and happiness, there was always this underlying current of dread and feeling of nothingness. I was constantly trying to achieve the next goal or challenge yet knew deep inside that regardless of what I accomplished I was never going to be truly satisfied. During moments of happiness I would often experience guilt for feeling happy in a world full of suffering.
Suffering
The saying goes Pain is inevitable; suffering is optional. Does that mean all these people in the world are choosing to suffer?
Suffering is a big word in Buddhist thought. It is a key term and it should be thoroughly understood. The Pali word is 'dukkha', and it does not just mean the agony of the body. It means the deep, subtle sense of unsatisfactoriness which is a part of every mental treadmill. The essence of life is suffering, said the Buddha. At first glance this seems exceedingly morbid and pessimistic. It even seems untrue. After all, there are plenty of times when we are happy. Aren't there? No, there are not. It just seems that way. Take any moment when you feel really fulfilled and examine it closely. Down under the joy, you will find that subtle, all-pervasive undercurrent of tension, that no matter how great the moment is, it is going to end. No matter how much you just gained, you are either going to lose some of it or spend the rest of your days guarding what you have got and scheming how to get more. And in the end, you are going to die. In the end, you lose everything. It is all transitory.

Sounds pretty bleak, doesn't it? Luckily it's not; not at all. It only sounds bleak when you view it from the level of the ordinary mental perspective, the very level at which the treadmill mechanism operates. Down under that level lies another whole perspective, a completely different way to look at the universe. It is a level of functioning where the mind does not try to freeze time, where we do not grasp onto our experience as it flows by, where we do not try to block things out and ignore them. It is a level of experience beyond good and bad, beyond pleasure and pain. It is a lovely way to perceive the world, and it is a learnable skill. It is not easy, but is learnable.
That's great news if you ask me and something I've learned to some extent; that in this moment everything is OK. Learning to harness the power of now is an amazing and powerful skill. Most suffering that we feel is created in our minds either from fear of something in the future or regret or guilt of something past; right here and now everything is essentially OK.
Finding happiness is something we all seek, but as I've discussed before it is impossible to obtain everything we desire and that we think will make us happy. So the only alternative left is to change our thinking.
Granted it is a difficult task and may take years if not a lifetime, but surely we would prefer something difficult as to attempting the impossible. In order to change our thinking and make radical changes in our lives we must have a realistic view of ourselves. A view of how we are now in this and every moment possible.
That is where the power of meditation and mindfulness come into play.
"What you are now is the result of what you were. What you will be tomorrow will be the result of what you are now. The consequences of an evil mind will follow you like the cart follows the ox that pulls it. The consequences of a purified mind will follow you like your own shadow. No one can do more for you than your own purified mind—no parent, no relative, no friend, no one. A well-disciplined mind brings happiness".
–From the Ancient Buddhist text Dhammapada
Meditation is a way of clearing the mind. To rid our minds of all the garbage and trash that skews our perception of reality. Meditation is a mental and emotional house cleaning. By taking out the garbage we can get into the moment and be mindful of how we're interacting with the universe.
Mediation benefits the meditator by helping them understand themselves and thus cultivating the most radical and significant change one can experience; a change from within. The more we understand and cultivate compassion within ourselves, the better we are at expressing it towards others.
As we love ourselves, love for others becomes automatic and the kinder we become. We become kinder because we need less externally as we demand less of ourselves and others. Our expectations are reduced as are resentments and fears. We feel love for others because we understand them; we understand them because we have learned to understand ourselves.
Meditation is the beginning of cultivating new thoughts; like clearing the land before planting and nourishing a seed that will later bare fruit and nourishment. Meditation helps clear the mind of unsalable goods and inventory that is no longer needed or provides any lasting value in our business of life.
The purpose and thus main benefit of meditation is personal transformation.
If you have never tried or considered meditation, I strongly encourage you to do so. If you are not sure if it will work for you… well, the only way to figure that out is to try.
Maybe you're afraid of what you'll discover?
Maybe you like living in a constant state of aversion or pursuing, if that is the case… well, I'm assuming it's not if you've read this far. If so, I encourage you to take a look at Mindfulness in Plain English. It is the first real practical guide I've discovered on how to meditate.
Here's just one example of something I got from the book; why exactly the breath is so important to mediation. As I'm sure you experience, the mind cannot focus without a mental object. Whether its images of the past or something that we plan on doing in the future, we always have an image or object running around through our minds.
So in order to truly get into the current moment, we must concentrate on something that is always there in each and every moment. What do we have readily available to us at all times? Exactly! Our breath! This book lists half a dozen different ways to concentrate on your breathing.
Even if you have been meditating for years, you may find this book really engaging and refreshing. Henepola Gunaratana's writing style is amazingly simple and quite humorous at times as well. Such as when explaining the lowest level of morality as simple adherence to a set of rules set by someone else.
"Even a trained chimpanzee could do it if the rules were simple enough and he was smacked with a stick every time he broke one. This level requires no meditation at all. All you need are the rules and somebody to swing the stick."
Whether you've been mediating for years or especially for those who are just getting started, this book will certainly get you on your way to the amazing benefits of meditation.
*You can you read Mindfulness in Plain English online here. However, if you're like me and enjoy having a physical copy, you can purchase a paperback copy of the newer expanded version.
Here is a list of the Chapters:
Chapter 1 (Meditation: Why Should I Bother?)
Chapter 2 (What Meditation Isn't)
Chapter 3 (What Meditation Is)
Chapter 4 (Attitude)
Chapter 5 (The Practice)
Chapter 6 (What To Do With Your Body), General Rules, Clothing, Traditional Postures
Chapter 7 (What To Do With Your Mind)
Chapter 8 (Structuring Your Meditation), Where To Sit, When To Sit, How Long To Sit
Chapter 9 (Set up Exercises), The Threefold Guidance, Universal Loving-Kindness
Chapter 10 (Dealing With Problems)
Chapter 11 (Dealing With Distractions, I)
Chapter 12 (Dealing with Distractions, II)
Chapter 13 (Mindfulness – Sati)
Chapter 14 (Mindfulness Versus Concentration)
Chapter 15 (Meditation in Everyday Life)
Chapter 16 (What's in It for You)
photo credit: Bindaas Madhavi