Podcast: Play in new window | Download
Subscribe: RSS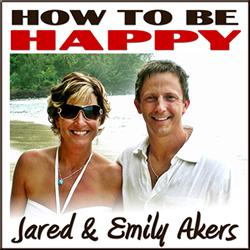 While listening to our last podcast, Emily and I realized we cut each other off… a lot. We talk over each other on occasion, especially if we're sharing something about ourselves with others.
We're both just so enthusiastic and eager to share all the love we have for each other and our lives!
I've noticed it before; like when we're sharing about travel, SCUBA diving, or how we met. The poor person(s) head on the receiving end is bouncing back and forth between us both like a tennis match. It's quite comical actually.
Sometimes I laugh about it later, as the recipient of our enthusiasm is pondering "What the hell was that flurry of animation and verbal stuff I just witnessed?"
Communication Exercises
What is mindfulness?
From Jon Kabat-Zinn, famous teacher of mindfulness and meditation: "Mindfulness means paying attention in a particular way; on purpose, in the present moment, and nonjudgmentally."
If you're new to mindfulness or meditation, start here https://jaredakers.com/meditation
Mindfulness for me involves emotional intelligence, being at peace with myself so I'm capable of being mindful and in the moment. I can be present and aware of my emotions because my heart and mind are in tune. I'm driven less by ego, regret, guilt or shame and more Just love.
Mindful Conversation
Three key components to mindful conversation (from Search Inside Yourself):
Mindful Listening: Giving your full attention to the one speaking, not just waiting for your chance to speak. If you find your mind wandering, gently bring it back as in meditation.
Looping: Closing the loop of communication. The person listening loops back by saying what he/she thought they heard the speaker say.
Dipping: "dipping," or checking in with ourselves. The main reason we do not listen to others is that we get distracted by our own feelings and internal chatter, often in reaction to what the other person said. The best way to respond to these internal distractions is to notice and acknowledge them. Know that they are there, try not to judge them, and let them go if they are willing to go. If feelings or other internal distracters decide to stay around, let them be and just be aware of how they may affect your listening. You can think of dipping as self-directed mindfulness during listening.
Dipping is also useful for the speaker. As the speaker speaks, it is useful for her to dip and see what feelings arise as she is speaking . If she likes, she may talk about them, or if she prefers, simply acknowledge them, try not to judge them, and let them go if they are willing to go.
Mindful Conversation Exercise
To perform this exercise, we practice listening, looping, and dipping. Basically we each take turns talking for 3-4 minutes while dipping ourselves to detect any emotions. Afterwards we repeat what we heard the other say and we continue to discuss this until the speaker feels the listener understood them completely.
We also practiced the traditional "I" Statement Exercise. For example:
I feel (emotion)______ when ___(the situation)___, and I would like ___(your request/need).
Resources and Related Topics from this Episode:
Please subscribe below to get automatic updates of our podcast!
Click Here to Subscribe via iTunes
Click Here to Subscribe via RSS (non-iTunes)