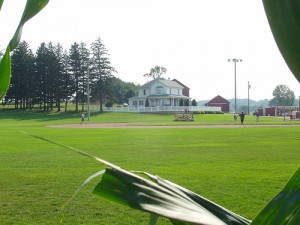 The following scene from field of dreams always resonates with me. This is where Kevin Costner's character Ray is asked by his father John if he's in heaven:
John Kinsella: Is this heaven?
Ray Kinsella: It's Iowa.
John Kinsella: Iowa? I could have sworn this was heaven.
[John starts to walk away]
Ray Kinsella: Is there a heaven?
John Kinsella: Oh yeah. It's the place where dreams come true.
[Ray looks around, seeing his wife playing with their daughter on the porch]
Ray Kinsella: Maybe this is heaven.
For the majority of my life, I felt that "if only" I could achieve this, or obtain that, then I would be happy. And heaven? Well that was just a place I may or may not go to reflect on my life. I would deal with that then.
Ray's heaven, and key to happiness, is a house where his wife and daughter can enjoy afternoon's on the porch. Where he's given the courage to follow a dream no matter how crazy others think he is. Where something inside him drives him because he knows in his heart it is true and pure; and that for him is how to be happy. It is him. Where his faith was tested and at times he considered giving up, but in the end he stuck to the truth he felt within and he discovered heaven.
My heaven is inside me today. It's the feeling that I am human, that I need help, and if I need it today I will ask for it. Heaven is a loving wife who accepts me for who I am, and nothing else. Heaven is a loving God. Heaven is picking up the phone and listening to someone in need. But most importantly, heaven is accepting the consequences of being myself.
What's your heaven look like?
photo credit: mlwguide