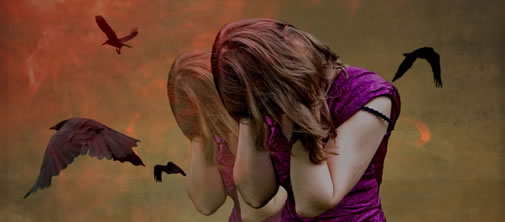 NOTE: I wrote this article on June 27th, 2010  prior to Goodbye for now, Dad
As many of you know, I've been through some shyt in my life. Of which I have come out on the other side full of inner-peace and happiness. Thus the tag line matching calamity with serenity: the ability to maintain inner-peace and serenity regardless of life's circumstances.
This is where the rubber hits the road.
June 26th, 1:30 P.M.
I'm sitting next to my mother on a small couch as we wait for the surgeon. We've arranged the chairs in a semi-circle with my aunt, uncle, wife, and mother facing the empty chair where the surgeon will sit. Where he will explain the results of a biopsy they did of a lump on my fathers neck. I already know the results. The day before they found 5 tumors in his brain. Cancer. Logic tells me that's not where it originated.
The surgeon comes in and sits down, he starts to explain the bad news. I watch his lips move and hear his voice and understand what he's saying, but I'm not in my own body anymore. I've seen this movie before, it's a sad one. Yet for some reason, no tears seem to come. I hear my mother say, "it's in God's hands now." I think to myself, "it's always been in God's hands." The thought brings some peace to my heart in the moment. I love my mother so much. We're so alike. After the surgeon leaves I hear "it's OK to break down now" as everyone else seems to let go of their emotions. I just sit there, watching… I've seen this movie before.
My mother and I walk next to my father as he's wheeled back to his room. Still a little groggy from surgery, he asks "is it cancer?" I look him in the eye and answer "yes it is." As of this writing we know the cancer originated in the lungs, that it is incurable, and that they are reviewing treatment options. The rest of this story is yet to be written.
I've cried some and reflected a lot the last few days. I love my dad and I know he loves me. The reality is, we're all dying. Most of us just assume it will be later rather than sooner. None of us really know; so make each moment count. I haven't cried that much, not as much as one would think. But then I realize he's still here and I can talk to him on the phone anytime I want. Plus my parents only live an hour and a half away; I'm lucky.
These are the moments I'll reflect on in the years to come. Did I do the right thing or is there anything I would have done differently? The gift is to be emotionally present and feel the diverse emotions entirely. At times I do feel a little numb or that I'm watching a sad movie, yet I am grateful for the ability to feel emotions at all. And again, I'm reminded that we're all dying and that all my family members are still alive.
One priceless gift I've learned through my spiritual journey—especially now—is the ability to recognize the important moments in life: All of them.
I know deep inside that everything is going to be OK. I'm able to maintain a sense of inner-peace and serenity for the most part. There are short periods of time when I feel lost, gloomy, or confused emotionally. It's at these times that I pray and meditate more, stay connected with my support group and remind myself this too shall pass. I know at times it's really going to suck; although I can remind myself that right now in this moment, everything is OK.
This is the moment I've been training for; I just hope I'm ready coach.
Spiritual Training and Finding Peace in the Midst of Chaos
Law enforcement, fireman, military, medical professionals, etc., are subjected to intense physical and mental training. The goal is that when the time comes for them to perform, they intuitively know how to react in a way which may save the lives of their fellows or themselves.
Likewise, by putting deposits into our spiritual bank account we're hoping to have something to draw upon when the crap hits the fan. As long as we're breathing there's crap out there just looking for a fan. Thus the importance and practicality of prayer and meditation. It truly is a way to help us become prepared for times of conflict within ourselves and the world around us.
Some may refer to this as being a "spiritual warrior." I've decided I really don't like that term; it's a contradiction. The roots of my spiritual growth are love and forgiveness which doesn't really jive with the word warrior.
Chaos can be anything that doesn't fit into the little box we consider to be our manageable life. Maybe it's emotions we're not used to feeling or a change in our environment, career, or relationship. Whatever the chaos may be, there can be inner-peace since our happiness and serenity are not contingent on external sources or circumstances. This serenity can get thrown off for a short period of time when we're faced with new emotions and/or challenges, but if we've done the work, we fall back on our training and intuitively know what to do.
It's OK to fall apart; yet sometimes we need others to remind us of that. However, I don't want to force emotions which aren't quite there yet. Maybe I'm in shock, maybe I'm just grateful for the time I do get to spend with my dad. I just know that whatever I'm feeling in each moment, that's OK and I need to feel it.
Emotions are neither good or bad, they're just emotions. If you're feeling a certain way (emotion), then it's valid; never let anyone tell you otherwise. "You shouldn't feel that way" is like telling a river it shouldn't flow towards the sea. The key is learning how to identify the underlying cause. In most cases, the cause is fear stemming from the perception that we're lacking love in some way; either of ourselves or from others.
If our spiritual training is routine, comfortable, and ingrained, it can provide us some security and comfort (peace) during stressful times. Others from outside may wonder why you're not a wreck, or you may watch others become basket cases. Yet by falling apart, I'm making it all about me aren't I? I don't know, I get confused sometimes on what I should be feeling… I know, I just said emotions are neither good or bad right?
One realization I did have is it's not my job to make my father right with God and his place in the world. That's his job. My job is to be a son. A light of sunshine and life when others only see sadness. Although I must allow others to deal with the process the best they know how. As my good friend said, "death is both a sad and a beautiful process." I can see that now, but we'll see where I'm at in a few months.
Thanks for stopping by.
photo credit: h.koppdelaney