Have you told the people in your life how much they mean to you recently? We all know this is important, but do we really take the time to connect with them on an emotional level and tell them how much they mean to us? Some family members may be uncomfortable with heartfelt discussions, but when they're gone, baby they're gone.
Shortly after I was born, my father built us a home with his own hands just outside the city where he worked construction. However, deep inside he'd always dreamed of owning and running a farm. I think he liked the idea of working for himself and the freedom it brings. Of his generation, the greatest compliment was "he's a hard worker," and that was/is my dad; a hard worker. I think he realized if he worked as hard for himself as he did for "the man," he was sure to succeed.
Shortly after my fifth birthday, we packed up everything and moved to a farm house ten miles outside a small town in East Central Kansas; the four of us and 80 acres. What I remember most about the house; bitter cold. Winter would often find my older sister and me sleeping in the dining room around the wood burning stove. My mother would heat bricks on the stove, wrap them in towels, and put them in the bottom of our sleeping bags. She was so thrifty; still is.
I have memories of my fathers rear-end in the air with his head submerged under the floor thawing pipes with a blow torch. To this day the smell of a blow torch on copper takes me back to those times… more of the cold house than of my father's ass. Vice-Grips made nice handles for the bathtub faucet. And when the pipes were frozen, steaming water was brought from the stove-top for our bath. My father fixed the house as much as he could, but time was limited as he continued working a full-time construction job 60 miles away (at minimum) and farmed nights and weekends. Our farm had cattle, chickens, a few pigs, and always a sea of swaying wheat or soybeans just outside our kitchen window.
I realize now what it must have felt like for my father; looking out the kitchen window every day to see his dream right there in front of him. Honestly, I doubt he took the time to enjoy it. I hope he did. We might not have had everything we wanted, but we always had everything we needed. I can't really remember wanting much. I think there was a correlation between the big dreams of my father and my imagination of all things possible growing up on a farm. One day I was John Wayne riding my sorrel gelding Dollar (Shetland pony) across the range; the next day I was Larry Bird making the winning shot against Magic Johnson (my sister) in Boston Gardens (hay loft). There is never a shortage of things to do growing up on a farm.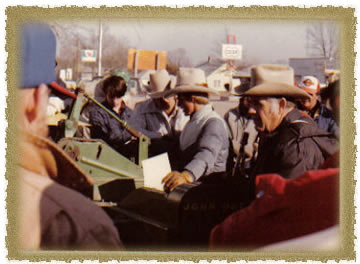 Farming was difficult during those times, it was the era of small farmers losing everything; you either had to go big or go home. After years of blood and sweat, the day came when my father decided it was best to sell the farm and move into town when I was 14. It was odd watching all our stuff going to the lowest highest bidder. I heard my father say once that selling our new house and moving to that farm was the biggest mistake he ever made. I disagree; and I had a chance to tell him that a few years ago. I'm glad I did, and I think I'll remind him next time I see him.
It's a testament to my parents' love towards my sister and I that made us feel safe and warm; always. Oddly, not until a few years ago when my sister and I were talking about our childhood, did we realize how cold and run down that old farm house was. We laugh now about the cold winters and vice-grip handles. Home really is where the heart is.
When I was around 12 years old I wanted to get a job, my father's advice; "son, you're going to be working for the rest of your life, enjoy not having to work as long as you can." He was right; he recently retired.
Dad if you're reading this, I hope you take the time to look around and realize anything is possible; that you followed a dream and worked hard and provided well. Today is a gift dad and I love you. Now take a break, you deserve it.

We may not always have the opportunity to tell the ones we love how much they mean to us; it's important to let them know as often as you can. I've had the privilege over the years of learning my fathers love language, and for that I am grateful.
As you share your feelings with those you love, try and be specific. I think this is important. It's not the definition of a word that gives it meaning, but the heart. Be sincere, specific, and make it count! You never know, it could be the last time you see them.
I'll close with a song I wrote a few years ago. And as always, comments (below) are welcome!

The Present
Music and Lyrics By: Jared Akers 11/2007
I heard a song the other day
And thoughts of you drift my way
Of times we shared and things you said
And all the things that we never did
We could always pass the time
Talking about the way things used to be
Sometimes we just sat and cried
And let the tragic past float by on the breeze
[CHORUS]
Life Happens when you're waiting for a change
Sittin' in the past, searching for blame
Life happens when you don't know what to say
Did you catch that game, so do you think it'll rain?
So be careful how you spend it
Today is a Gift, thank God for the present
We talked about mistakes we made
Ones betrayed and dreams that fade
You told me of the one's you missed
And how we got to a place like this
We could always pass the time
Talking about the way things used to be
Sometimes we just sat and cried
And let the tragic past float by on the breeze
[CHORUS]
I'm not sure how hard I tried
To be with you in the end
So I wrote this song to say goodbye
I won't make that mistake again
[CHORUS]