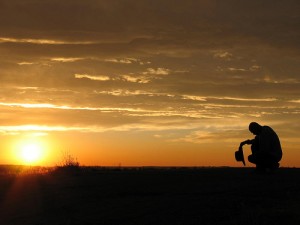 I work with computers. I like things that make sense, most of the time. As a kid, I was always taking things apart—clocks, radios, you name it—to discover what made them tick. As for God? Whatever… show me an angel and then maybe I'll believe in something. Show me footprints in the clay where Jesus walked and I'll consider the possibility that a great man, a model of humanity, once walked the earth.
When it was first suggested almost three years ago that I get on my knees and pray every morning, I was desperate enough to try anything, so I did. I was told simply to pray for others and was given a few simple prayers to get me going. One I still use today is:
"God, I offer myself to Thee—to build with me and do with me as Thou wilt. Relieve me of bondage of self, that I may better do Thy will. Take away my difficulties, that victory over them may bear witness to those I would help of Thy Power, Thy Love, and Thy Way of life. May I do Thy will Always!"
At night I was to get on my knees again and say thank you. In addition to saying thank you to nothing—the man who was suggesting I do this was the only "real thing" I believed in at the time—I was to ask for those I resented to have the same things I would want for myself. Things like love, happiness, prosperity, and even specifics such as a family and a good job.
I continued this every morning and night for about a year. Praying for others, praying that people other than myself have love, happiness, and health in their lives. I prayed for specific people, people I knew were struggling with personal problems or illness.
One evening on the way home from work, an accident caused four lanes of traffic to come to a dead stand still. Of course this was the night I was to meet my girlfriend out for dinner. Having drove this commute for several months now, I knew my normal forty minute commute was now easily going to be two hours. I felt the aggravation start to swell up in my chest as I thought about hitting the steering wheel. Then a miracle happened. My next thought went to the people in the accident, my heart swelled for them and their family members and I began to pray for them. A calmness came over me as I prayed for those in the accident and their families. However long it would take me to get home would be nothing compared to the sadness one would feel if their loved one just died on this highway. As I looked around at the other drivers beating on their steering wheels in frustration, I realized I had changed.
Today I do believe in a power greater than myself— which I call God. Whether it be God, Jehovah, Allah, Shiva, Brahma, Vishnu, or Zues, to me it doesn't matter. In the words of Elizabeth Gilbert from Eat, Pray, Love
, "I have nothing against these terms. I feel they are all equal because they are all equally adequate and inadequate descriptions of the indescribable. But we each do need a functional name for this indescribability, and 'God' is the name that feels the most warm to me, so that's what I use."
As a practical person, I realized I had changed through the practice of prayer. At times I over-analyze the use of prayer. Telling myself I'm simply more thoughtful of others because I'm taking the action of praying for them more. But in the end it all comes down to action. I take the action and something, practical or not, happens. I simply had to commit to something long enough to experience a power greater than myself.
I don't need to see footprints in the clay today, for I feel God's presence in my heart. God is doing for me what I was unable to do for myself. Change.