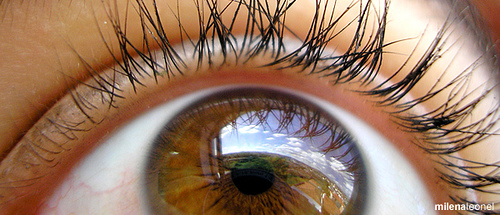 One of my favorite books is Og Mandino's The Greatest Miracle in the World
(amazon link). First off, it's a quick read and contains a great story of Og and Simon the Ragpicker. From the book comes the God Memorandum which consists of the four laws of happiness and success:
Count your blessings
Proclaim your rarity
Go another mile
Use wisely your power of choice
It is also suggested that one should do all things with love. If you haven't read the book, the premise is that most humans have lost their way, that we have resigned to living on the junk pile of life. There are religious connotations in this book, so if that sort of thing bothers you, well… I would just suggest you keep an open mind. I read this book early in my spiritual journey, and as with anything spiritual or religious, I usually take what works for me and leave the rest. I've included the section on counting your blessings, this really helps put into perspective what a true miracle each and every one of us are.
Count Your Blessings:

You believed no one. You burned your map to happiness, you abandoned your claim to peace of mind, you snuffed out the candles that had been placed along your destined path of glory, and then you stumbled, lost and frightened, in the darkness of futility and self-pity, until you fell into a hell of your own creation.

Then you cried and beat your breast and cursed the luck that had befallen you. You refused to accept the consequences of your own petty thoughts and lazy deeds and you searched for a scapegoat on which to blame your failure. How quickly you found one.

You blamed me!

You cried that your handicaps, your mediocrity, your lack of opportunity, your failures … were the will of God!

You were wrong!

Let us take inventory. Let us, first, call a roll of your handicaps. For how can I ask you to build a new life lest you have the tools?

Are you blind? Does the sun rise and fall without your witness?

No. You can see … and the hundred million receptors I have placed in your eyes enable you to enjoy the magic of a leaf, a snowflake, a pond, an eagle, a child, a cloud, a star, a rose, a rainbow … and the look of love. Count one blessing.

Are you deaf? Can a baby laugh or cry without your attention?

No. You can hear … and the twenty-four thousand fibers I have built in each of your ears vibrate to the wind in the trees, the tides on the rocks, the majesty of an opera, a robin's plea, children at play … and the words I love you. Count another blessing.

Are you mute? Do your lips move and bring forth only spittle?

No. You can speak … as can no other of my creatures, and your words can calm the angry, uplift the despondent, goad the quitter, cheer the unhappy, warm the lonely, praise the worthy, encourage the defeated, teach the ignorant … and say I love you. Count another blessing.

Are you paralyzed? Does your helpless form despoil the land?

No. You can move. You are not a tree condemned to a small plot while the wind and world abuses you. You can stretch and run and dance and work, for within you I have designed five hundred muscles, two hundred bones, and seven miles of nerve fiber all synchronized by me to do your bidding. Count another blessing.

Are you unloved and unloving? Does loneliness engulf you, night and day?

No. No more. For now you know love's secret, that to receive love it must be given with no thought of its return. To love for fulfillment, satisfaction, or pride is no love. Love is a gift on which no return is demanded. Now you know that to love unselfishly is its own reward. And even should love not be returned it is not lost, for love not reciprocated will flow back to you and soften and purify your heart. Count another blessing. Count twice.

Is your heart stricken? Does it leak and strain to maintain your life?

No. Your heart is strong. Touch your chest and feel its rhythm, pulsating, hour after hour, day and night, thirty-six million beats each year, year after year, asleep or awake, pumping your blood through more than sixty thousand miles of veins, arteries, and tubing … pumping more than six hundred thousand gallons each year. Man has never created such a machine. Count another blessing.

Are you diseased of skin? Do people turn in horror when you approach?

No. Your skin is clear and a marvel of creation, needing only that you tend it with soap and oil and brush and care. In time all steels will tarnish and rust, but not your skin. Eventually the strongest of metals will wear, with use, but not that layer that I have constructed around you. Constantly it renews itself, old cells replaced by new, just as the old you is now replaced by the new. Count another blessing.

Are your lungs befouled? Does your breath of life struggle to enter your body?

No. Your portholes to life support you even in the vilest of environments of your own making, and they labor always to filter life-giving oxygen through six hundred million pockets of folded flesh while they rid your body of gaseous wastes. Count another blessing.

Is your blood poisoned? Is it diluted with water and pus?

No. Within your five quarts of blood are twenty-two trillion blood cells and within each cell are millions of molecules and within each molecule is an atom oscillating at more than ten million times each second. Each second, two million of your blood cells die to be replaced by two million more in a resurrection that has continued since your first birth. As it has always been inside, so now it is on your outside. Count another blessing.

Are you feeble of mind? Can you no longer think for yourself?

No. Your brain is the most complex structure in the universe. I know. Within its three pounds are thirteen billion nerve cells, more than three times as many cells as there are people on your earth. To help you file away every perception, every sound, every taste, every smell, every action you have experienced since the day of your birth, I have implanted, within your cells, more than one thousand billion billion protein molecules. Every incident in your life is there waiting only your recall. And, to assist your brain in the control of your body I have dispersed, throughout your form, four million pain-sensitive structures, five hundred thousand touch detectors, and more than two hundred thousand temperature detectors. No nation's gold is better protected than you. None of your ancient wonders are greater than you.

You are my finest creation.

Within you is enough atomic energy to destroy any of the world's great cities … and rebuild it.

Are you poor? Is there no gold or silver in your purse?

No. You are rich! Together we have just counted your wealth. Study the list. Count them again. Tally your assets!

Why have you betrayed yourself? Why have you cried that all the blessings of humanity were removed from you? Why did you deceive yourself that you were powerless to change your life? Are you without talent, senses, abilities, pleasures, instincts, sensations, and pride? Are you without hope? Why do you cringe in the shadows, a giant defeated, awaiting only sympathetic transport into the welcome void and dampness of hell?

You have so much. Your blessings overflow your cup … and you have been unmindful of them, like a child spoiled in luxury, since I have bestowed them upon you with generosity and regularity.

Answer me.

Answer yourself.

What rich man, old and sick, feeble and helpless, would not exchange all the gold in his vault for the blessings you have treated so lightly.

Know then the first secret to happiness and success – that you possess, even now, every blessing necessary to achieve great glory. They are your treasure, your tools with which to build, starting today, the foundation for a new and better life.

Therefore, I say unto you, count your blessings and know that you already are my greatest creation. This is the first law you must obey in order to perform the greatest miracle in the world, the return of your humanity from living death.

And be grateful for your lessons learned in poverty. For he is not poor who has little; only he that desires much … and true security lies not in the things one has but in the things one can do without.

Where are the handicaps that produced your failure? They existed only in your mind.

Count your blessings.
I look at our granddaughter with awe as she grows so quickly. From one week to the next her facial expressions change and her personality comes to life. She is a miracle and so are we!
I remember a dark time when I did not love myself. I had failed at life and could not possibly see how things would ever get better. My sister was there and I remember her stroking my head and saying, "I will love you enough until you can love yourself." Part of my spiritual journey was beginning to believe that some "thing" or power could love me unconditionally and would always be there for me. There are times when my faith is shadowed by doubt or my logical brain wants to dismiss things as coincidence. It is those times that I remind myself what an amazing miracle I am. I get out of doubt or self-pity and into gratitude. No matter how bad I think things are, someone else is worse off than I. I count my blessings. A grateful heart has no room for self-pity.
"True security lies not in the things one has but in the things one can do without."
When I am surrounded by love, I have everything I need. I believe that I am loved by God. Why? Simply because when I started praying and asking for guidance—got out of the way—and looked at each day as a way of being of service to others, my life blossomed into something I never dreamed imaginable. Some people scoff at prayer or the idea of a Higher Power, I used to be one of them. For me it is simple; prior to living a life based on spiritual principles, my life sucked.
Today my goal is to be more like a tree.
"Where are the handicaps that produced your failure? They existed only in your mind."
My handicap was the idea that, if I only managed well, I could wrestle happiness out of life on my own. For me, a life run on self-will alone did not work. It failed because I was continually looking for happiness outside myself. Not until I truly accepted and learned how to love myself did I find true happiness and serenity. I have learned that everything I need to be happy is inside me.
So remember that you posses every blessing necessary to achieve great glory! So count your blessings and be thankful for the true miracle that you are!
One last thing I want to share with everyone! Last year my wife and I went to a Craig Morgan concert. I had heard his song, "God Must Really Love Me," but for some reason when I heard it live, I literally broke down in tears. The part of the song which brought about the amazing feeling of gratitude and tears was the lyrics:
When I showed the worst he saw the best, he pulled the world right off my chest. Everyday I wake up I feel blessed, Yeah I feel so blessed, God must really love me."
Check out the video! God Must Really Love Me, and remember, you are a miracle!
photo credit: Milena Leonel