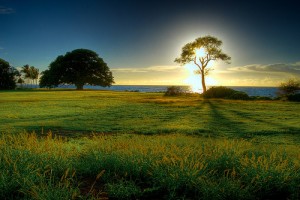 Back in the early 90's I was as a zookeeper. Each Spring we would transport the Spider Monkeys  from the indoor tropical building to a wonderful outdoor enclosure with trees and grass. Yay for the spider monkeys! Since none of us spoke Spider Monkey, we couldn't really tell them what we were doing. For all they knew we were coming in to eat them so they always freaked out when we came walking towards them with nets. They didn't know we were just trying to help them, that we were taking them to a great place to frolic in the sun and play in the grass and swing from the trees.
A few years ago I was laying in the grass at a park looking up at a tree and pondering what God's will was for me. I noticed how the tree branches would be going one direction then shoot off in another. What made them do that? Then I realized a tree is just a tree. It's being exactly what God intends it to be. It's strong and provides shelter and food for everyone around it, just by being ITSELF! It's not trying to be a rock star or grape bush, it's just being the best tree it knows how to be. A tree has learned how to be happy just by being the best tree it can be.
For years I was like the Spider Monkey's, freaking out every time life threw me a curve and wondering what the hell was going on. I didn't realize God had a wonderful place he wanted me to be. A beautiful world where I could be free and do all the wonderful things that makes life so beautiful—like love and be loved. I just couldn't see it. I was too busy trying to be a rock star.
So today I'm just trying to be the best "me" I can be. To let life take me to where I'm suppose to be and not just where I've ended up. To be the best human I can be, who can love and be loved. More like a tree.
photo credit: jphilipson