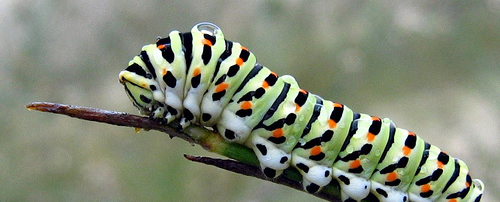 Hiding behind the idea that I was shy, I missed out on many opportunities for spiritual, personal, or emotional growth. When I started a new job several years ago, my life coach suggested that I introduce myself to three new people in my office every morning for the first two weeks at my new job. I thought he was crazy, "that's not like me, don't you know I'm shy?" His response, "Jared, it's not about you."
"The essence of all growth is a willingness to change for the better and then an unremitting willingness to shoulder whatever responsibility this entails."
Bill W., July 1965 As Bill Sees It, p. 115
There are many forms of self-centeredness and selfish behavior, such as self-loathing and shyness which I often confused with humility or something else; but not self-centeredness. Regardless of my intention, I was making everything about me. When I get out of myself—like introducing myself to new people no matter how uncomfortable it is—I change for the better. For me, better means placing myself in more opportunities to be of service to others—which can feel really uncomfortable at times.
From the movie Peaceful Warrior (affiliate link):
Dan: "Hey Socrates, if you know so much, why are you working at a gas station?"
Socrates: "It's a service station. We offer service. There's no higher purpose."
Dan: "… Than pumping gas?"
Socrates: "Service to others."
You see I had made a commitment to grow spiritually, personally, and emotionally. No matter what I do for a living or what my circumstances in life are, I can choose to grow. Letting every experience—whether perceived to be good or bad—take me to where I'm supposed to be. It takes commitment and hard work, but the reward is simple: a happiness which is not contingent on anyone or anything.
Most things I think are hard, aren't hard at all, just uncomfortable. Over time, the more I grow, the more I have to get outside myself to find things that challenge me to grow.
On my recent trip to Cozumel Mexico, I resisted going into town to explore all the shops and local restaurants. I was a little nervous to drive there or take a taxi, which is usually not like me. Generally when we travel, we like getting out and experiencing the local culture and usually rent a car. I'm not sure if it was because I was lazy or what. Although everything we needed was right there at the resort; beach, diving, sun, pool, food, and a gift shop with great deals on jewelry. I also dislike the people who are always trying to sell you something. Wait, I mean I don't dislike them, it just makes me feel uncomfortable. I feel bad telling them no or ignoring them. I want people to like me. I hate the language barrier and many times would just like to know more about a person; what's their family like, where they live, what do they do for fun, etc. Maybe they'll like me if instead of ignoring them I can say "I'm really sorry I'm not interested in what you're selling. What do you do for fun?" in Spanish. But then again, I'm making it about me… I purchased the Rocket Spanish course and sometimes listen to it on my drive into work so I'm making progress. But I haven't gotten to the "sorry I don't need any silver, where do you live?" lesson yet.
My challenge to all my readers is to do something uncomfortable today! Try striking up a conversation with the beggar instead of pretending to be on your cell-phone. You never know what you might learn.
photo credit: macropoulos