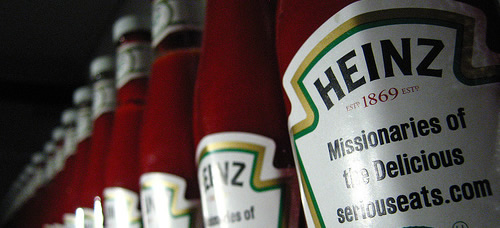 Doing something does not always equate to accomplishing something. For years I scurried about getting all sorts of things done, but was no closer to inner-peace and happiness as a result. Today my actions take me towards something, towards spiritual growth which is where I find the truth about myself and lasting happiness.
When I was working as a server in a restaurant, I learned how to look busy. I discovered that if you carry a ketchup bottle around and look like you're going somewhere, people will assume you're busy and leave you alone. I was self-centered, or as I referred to myself, shy. Which is just a form of self-centeredness and making everything about me. When all I'm thinking about is how uncomfortable I am in a situation, I'm missing the opportunity to be of service to someone else. I'm making it about me.
"Slow down and remember this: Most things make no difference. Being busy is a form of laziness-lazy thinking and indiscriminate action."
-Tim Ferriss' 4-Hour Workweek
Many of you may have heard me talk about my $10 life where for years I would only put $10 worth of gas in my car at a time. I was too impatient to wait any longer. As I stood their watching the numbers clicking by, I would think about all the things I had to get done. Most often, none of them were for someone else—if that was the case, $5 was the limit—back when $5 would get you somewhere. While waiting I would think about what a great friend I was and that when I was finished with the laborious task ahead, I could get back to changing the world. It was always about me—always in a rush to manage my time, always looking for something I thought I was missing. Being alone with me was too uncomfortable.
What I was missing was love for self and self acceptance
"Action to be effective must be directed to clearly conceived ends."
-Jawaharlal Nehru
I believed my actions were directed towards achieving success, which in-turn would equate to happiness. But no matter what I achieved, there was always something else. Do you ever feel that way? I don't know about you, but depending on forces outside myself to determine my success was an endless cycle. I would often think, "is this as good as it gets?" I thought I was happy—based on what others determined happiness looked like. I was not happy. At least compared to the happiness I have now, heck, it was not even in the same ballpark! To use a quote from Pulp-Fiction, "ain't the same f$#&in' ballpark, it ain't the same league, it ain't even the same f$#&in' sport."
Today when faced with a tough decision that requires action, I use a simple test: Will this action help me grow spiritually? This test can apply to any action which I'm not sure about taking. Even if the action seems selfish, it may be that I'm moving towards self-respect and love. For me, something as simple as taking the elevator vs. the stairs can be an action towards spiritual growth. Like when I find myself wanting to isolate and avoid people and can't decide whether to take the stairs or risk having to talk to someone in the elevator. Is there any chance of spiritual growth by avoiding people? Not for me there isn't.
Every action I take can be a clearly conceived act towards spiritual growth. And for me, living a life based on spiritual principles has been the only way I have found true and lasting inner-peace and happiness. OK, I know what you're thinking… "every action? come on, that's not realistic…" OK, maybe not the action of reaching for my coffee cup, but certainly every action which stirs inner conflict. Oh, and here's the real important part!!!! If I don't know which way to go, I ask someone! I ask someone whom I respect spiritually and will give me their unbiased opinion whether I want to hear it or not.
"The mark of a good action is that it appears inevitable in retrospect."
-Robert Louis Stevenson
It has been my experience that actions I have taken based on spiritual growth and character building, in retrospect, seem to be the only possible choice.
If you find yourself "going through the motions" and busy busy busy, try taking some time out for yourself. Read a book, take a walk and listen to the sounds you hear around you. Put down the ketchup bottle and do something kind for yourself or someone else.
photo credit: Adam Kuban