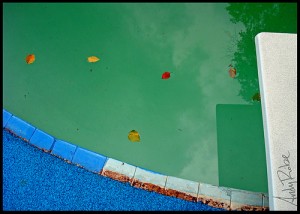 I am six years old and shivering as I glare at the freezing water from the edge of a pool. It is 7:30 a.m. and I am supposed to be in the water with the rest of the students… and my mother. Scared and cold, I muster every bit of courage I have, and jump.
A few short minutes later, I am OK. Actually, the water feels good now—not nearly as cold as when I jumped in. Did the water temperature change? Of course not—the water temperature did not change, I did.
"The key to change… is to let go of fear."
-Rosanne Cash
Just like the fear of jumping into cold water, I sometimes fear uncomfortable situations. Situations, which prior to living a spiritual life, I avoided at all costs. Usually numbed out or tuned out in some way. These situations are usually a change in my normal routine or what feels comfortable.
Today when faced with something uncomfortable—whether rooted in fear, jealousy, anger—I am better aware of it, and know from experience, I'm probably getting ready to grow somehow spiritually and/or emotionally. Armed with this attitude, I am better prepared to face any obstacle or change in my life with minimal fear.
Life has not gotten easier; my perspective is just different.
I was not always this way. It took a lot of pain to make me change. Moreover, I did not want to change, I had to. Thank God. I was unaware there was a better way to live—I didn't know what I didn't know.
So the secret is (drum roll), the world and circumstances of our lives do not change, we do. Things happen around me, not to me. It's how I react to change that either enhances or stunts my spiritual growth.
I am especially excited to hear about how you have accepted changes in your lives! Share in the comments.
I will leave you with another quote that gives a hint into how we can accomplish and view change:
"If you want something you've never had, you must do something you've never done." –Unknown
So the next time you're standing at the edge of change or something uncomfortable, remember to walk through it—jump in! By embracing it, you're re-channeling the energy towards positive growth. When you emerge on the other side, not matter what the outcome, you'll feel better about yourself for having went through it.
photo credit: andyrobe
UPDATE: I plan to post (hopefully) one more post sometime next week before I leave for vacation on June 13th. My wife and I are traveling to Curacao for a week for some R&R and diving. It's going to sort of be our honeymoon (even though we got married on Kauai 😉 and celebration for finishing my Masters degree.
I also wanted to welcome anyone who would like me to cover certain topics, feel free to email me with any suggestions! I'll write about anything dealing with emotional growth, spirituality, life, etc.. And honestly, no matter what the topic, I can generally relate it to something spiritual or having to do with personal growth. 😉
Take care and thanks for stopping by!