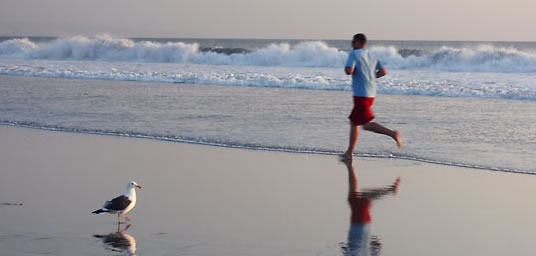 Just to make certain we're all on the same page, I'm talking about physical running here; with your feet and legs. Not running emotionally… for anyone who was looking for validation to run away from your problems. Sorry, won't find that here.
One of the side-effects of living a life filled with spiritual love is the desire to live a healthier life style. To be healthy spiritually, we should exercise not only our mind and spirit, but also our physical bodies.
Leather interior and heated seats are nice, but those features won't get you to where you need to go if the car is out of gas.
As a cross-country runner in high school, I hated running. I remember standing with my foot along a white chalk line with 100 other guys thinking "I'm about to sprint for three miles, this sucks!"
After high school I refused to do anything that wasn't fun; which for me included most activities associated with healthy lifestyles. Every few years or so I would go through a spell where I felt like detoxing myself and would run for a few weeks or months; but never really enjoyed it that much. It equated to more time spent with "me" whom I wasn't really fond of.
About a year ago I begin jogging every now and then or just going for a long walk. Eventually I started running and realized it can be quite enjoyable and actually spiritual. On my recent trip to Cancun, I would hit the beach in the mornings and run; stopping to cool off in the ocean and meditate to the sound of the waves. That was very spiritual and I loved it!
Most runners are familiar with the voice or wall we hit telling us to stop, slow down, or quit. Sometimes its 5 minutes in, other times it may be just past the halfway mark. Upon passing the infamous wall, I'm often entrusted with special spiritual powers; powers unveiled only to those most worthy of using them for good and not evil. Powers such as:
Time Travel – I can see into the future and visualize myself finishing
Out of Body Experience – I honestly think I leave my body mentally and physically sometimes… or maybe it's just wishful thinking but it sure feels like it
The Ability to Stop Time – I can bring my mind back from 3 blocks ahead to the few feet right in front of me; reminding myself to stay in this moment where everything is happening, realizing the power of now
Super Human Strength/Courage – When I honestly think I can't take another step, afraid that my lungs are going to explode, I keep going (it's important to note here that safety is very important. I honestly do stop if I really think I'm about to pass out… oh, and stay hydrated!)
Perspective – I know people who aren't able to run yet accomplish a lot more than me physically. I think of them and take a few more strides
Angelic Conversations (not the movie) – There's a moment during every run when I swear I hear angels singing…
As I grow spiritually the more connected I become between mind, body, and spirit. Therefore the more important it is to keep them all in as healthy shape as possible. I'm not obsessed about my health, but I do feel better mentally when I'm making an attempt to take care of my body; it's just respectful.
Living a healthier lifestyle is a form of gratitude as an action (i.e. I'm grateful for my car therefore I wash it). Gratitude is essential to me in maintaining my spiritual condition. Once gratitude starts to fade, self-pity comes a knockin' and it can quickly go downhill from there.
Regardless of whether you consider running or not, I highly recommend some type of physical activity to get you in touch with your spirituality. Yoga is something I haven't tried yet but is on my short list!
If you don't know where to start, check out ZenHabits.net Beginner's Guide to Running.
The Key to Life is Running and Reading
Will Smith – the Key to Life is Running and Reading
Running: When running there's a little person that talks to you, that tells you to slow down, to stop, that you're lungs are about to explode.  "…if you learn how to defeat that person when you're running, you will learn how to not quit when things get hard in your life."
Reading: "There's no new problem you can have that someone hasn't already solved and wrote about it in a book."
What exercises do you practice to increase your mind, body, spirit health?
If you're a runner and have an iPhone, check out my review on the Best Free iPhone GPS App for Running. I review 4 different free GPS Apps for the iPhone that track your runs and post the results to Facebook and Twitter.
photo credit: rickz