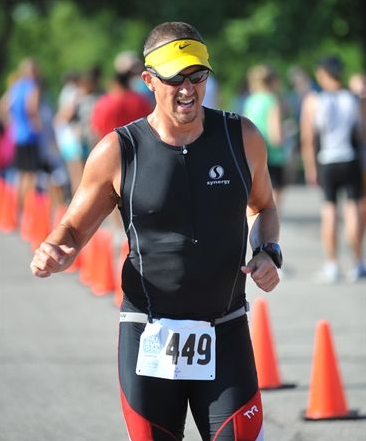 If you're out of shape, or looking for how to start running from scratch, read on. I was really out of shape for years and hated running. But with a little time and small steps, anything is possible. Here's how I started slow and within a few months was running in my first 5K.
Having run Cross Country in High School, I knew I hated running; really, I'm serious. I remember standing at the starting line with 100 other guys thinking "I'm about to run 3 miles as fast as I can, this sucks!" Although I was pretty good at cross country, I quit before my senior year and vowed to never run again.
I recall the coach pleaded with me not to quit, but I remember something my dad asked me when I went to him for advice, "If you hate it, why keep doing it?" It seemed simple enough.
So skip ahead to my late 30's. I'm 41 as of writing this article and in the last 3 years I've finished 2 5K's, a half marathon, and 2 short course triathlons. But all that's another story, and the only thing I really "enjoy" while doing it, is the triathlons. The half marathon sucked, but I'm glad I did it. The 5K's are alright, but short and all you're doing is running which is kind of boring.
It's hard to say whether or not I enjoy running. I think I do most of the time. It's a form of meditation. Running and listening to some good music; I do a lot of good thinking and make some of my best decisions while running.
More importantly, I enjoy the results and the way I feel about myself by staying in shape.
How I Started Running From Scratch
Disclaimer: I'm not certified to give exercise or running advice. I just enjoy staying fit and healthy. After all, we take care of things we're grateful for. Before you start a new running program, check with your doctor.
Prior to me wanting to get back into shape, the only real running I did was to Krispy Kreme—although now I run for peanut butter filled pretzels.
It's amazing what you can accomplish with small steps. So that's how I started running—small.
If you look at the diagram, my house is near "A". So I would start out walking for 5 minutes going from "A" towards "B." Then, I would jog a few blocks, or until I was out of breathe or needed to stop. At first, this was only a few blocks. I would walk a few blocks, and then start jogging again.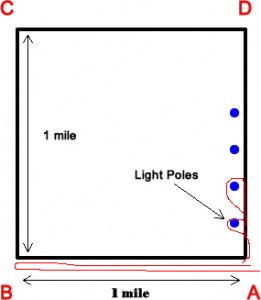 I would run three days a week, Monday, Wednesday, and Friday—always after work. I tried running in the morning but I just can't get motivated that early.
I started out with small goals, like make it to the next block without stopping. I would do this for a few weeks, just trying to add a little bit more distance without stopping each day I ran. Eventually I was able to run from "A" to "B" and back to "A" again without stopping; about 2 miles. I'd say that took me a few months at least to accomplish.
Let's get clear on some terminology here. I say "running," but to me it's the same thing as jogging. If both of my feet are not touching the ground at the same time, I'm running.
It's important not to set unrealistic expectations. I don't care how slow I run; I just try to keep from walking. And always listening to my body and walking if I need to.
After a few months I was running 2 miles at a time without much trouble. So I started turning the corner at "A" and would head towards "D." Each time (Mon, Wed, and Fri) adding another hundred feet or so; keeping track by counting light poles.
Eventually I made it 3 miles; A, B, A, D and would walk back home to "A" as my cool down. After a few weeks of 3 mile runs, I figured I was covering 3/4 the distance around our mile section neighborhood. I then decided to run all the way around; A, B, C, D, A. I'll admit, between "C" and "D" was a pretty big hill and the first few times I ran that I had to walk.
Within a few months from the day I started running from being out of shape, I was covering 4 miles. I knew a 5K was only 3.1 miles so I signed up for my first one. That year I did 2 5K's and since I've done a half marathon and 2 short course triathlons.
This coming year I plan on doing at least 2-3 triathlons' and possibly a 10K or half marathon. Not sure. I enjoy the triathlons so much better because you get to use more cool equipment and the variety of activities.
So there's my answer to "how to start running when out of shape."
Key Points:
Start slow, don't overdo it
Avoid putting too high expectations on your results
Keep moving
Be consistent
Always try to do just a little more than you did last time (but if not, no big deal!)
Sign up for a 5K. You'll be more motivated once you've paid the entry fee.
Listen to your body
Good luck.