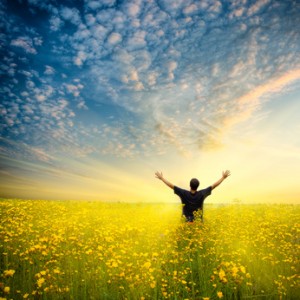 It is possible to build a happy life, but for most of us, it's not easy. Maybe you know someone who seemed to manifest a happy life in an instant; I don't.
I have heard of these miraculous awakenings into happiness, and I believe them to be true. One thing I have noticed, is that most of these cases seem to have something in common; a drastic change in perspective. Most often, through some type of near death or major life changing event.
But even in these cases, the individuals seem to only maintain this amazing sense of perspective for a short time. As they say, eventually life get's in the way.
As many of us do not experience some type of amazing life changing experience, how do we go about creating a happy life? More precisely, how do we go about creating a new sense of perspective? Let's examine the definition of perspective as it pertains to this article: the state of one's ideas, the facts known to one, etc.
Most of our ideas are based on past experiences, which lead us to anticipate what the outcome will be from similar, or not so similar events in the future. For example, maybe in a relationship we have been left abandoned or our spouse has been unfaithful, we are more likely to anticipate these same things happening in future relationships.
As a result, we may alter our actions to prevent this from happening in the future, warranted or not. There is a lot of emphasis on living in the now these days, which is precisely one of the ways to change our perspective.
1. Living in The Now
Living in and for the moment releases us from all past experiences and fears of the future. However, staying in each moment the best we can is difficult. With all the things going on in our life, its hard to stay connected to the moment. We may even feel as if we're loosing control if we're not worrying about the future or what we can do to control it.
Nonetheless, there is tremendous power in keeping our mind and soul in the current moment as best we can.
"Doing the best at this moment puts you in the best place for the next moment."
-Oprah Winfrey
By concentrating on doing the best in the moment we're in, we're actually creating our future. What we're doing right now in this moment, is putting things into motion that may or may not come to pass tomorrow. Although there is no guarantee, we certainly will not have the chance of a better future if we do nothing.
Let's pretend that I don't know how to swim and I happen to be driving down a coastal highway looking out at the ocean. I know, or have a good reason to believe, that if I stop the car and jump into the ocean I'll drown. Pretty basic right? But how probable is it that I will ever learn how to swim if I never get out of the car? Not very.
If I want to change my future—the chance of entering an ocean without drowning—at some point I'm going to have to stop the car and get out. As in life, there are certain actions I must take in this moment if I'm going to be in a position to have a happy life in the future. One way of putting into motion a happy life, is searching for inner happiness as it pertains to each and every moment.
When I was recovering from a deep depression in my life, I spent a lot of time around friends I had met in a support group. I remember when I felt a sense of doom and depression creeping back in, I used a simple technique. I would stop, look around myself at all the friends I had who supported me, and would remind myself that right now, in this moment, everything is OK. I realized that for most of my life, I was so concerned with how to find happiness, I was missing out on all the happy things that were happening around me.
During this period I also concentrated on keeping things simple. I would journal about what I felt and experienced throughout each day; how certain activities would make me feel happy. When depressive feelings or unhappiness would start to sneak back into my mind, I would get out the journal and remind myself what I did last time I felt that way. Then I would do that. Pretty simple right?
By learning to stay in the moment as best I could, my perspective gradually changed. I begin realizing that I was making better choices in life and as a result I was creating my happy life! My perspective changed in that I realized experiences I had in the past were not necessarily going to happen again. I had to surrender to the fact that the only control I have is what I'm doing right now in this moment. By building a happy moment, I'm creating a happy life.
2. Lower Expectations
The key to creating your happy life is grasping several key concepts. One is learning how to lower your expectations of others and yourself. As a result, you are forced to be more present in the moment you're in. Lower expectations result in less fear and anxiety and a life filled with more moments of happiness. Another key concept is acceptance. Learning to accept there are only certain things we can control, mainly ourselves. Moreover, we cannot control others; which we often try and fail with great frustration.
Creating your happy life starts with creating happy moments.
3. Live Right
How To Lead A Happy Life by Living Right
I often get asked "how to lead a happy life?" My response is always, live and lead yourself right and you'll have or "lead" a happy life. Although it sounds easy, most of us aren't sure what living right means. I wasn't living right for years and as a result wasn't happy. Although I wasn't quite sure what "living right" meant, I was pretty confident I wasn't doing it. My conscience took care of letting me know that almost every day.
In order to know how to live right or how to be happy in life, you must know self. Like I've said a hundred times before; it's like trying to buy a Christmas or birthday present for someone you don't know very well. You really want to make them happy but have no idea what that is… hard isn't it? Creating your healthy happy life is the same way. You have to know what you need and to know that you have to have self-knowledge.
A healthy happy life is created when we have balance. When our happiness is not contingent on sources outside self and we're grateful for our life; body and soul! We're healthy (both mentally and physically) because we care for our bodies as well as our minds. The more gratitude we have the happier we feel, it just all goes together in creating your happy life!
Of course it all sounds nice and easy written or typed out here on this page, but getting there is not so easy. That's why I've created How To Find Happiness, to help others achieve true inner-peace and happiness through self-love and discovery. Most of what you'll learn may be through my newsletter or soon to be released book (ebook) How To Find Happiness: 9 Steps to Inner-Peace and Discovering Your Authentic Self.  I hope you're as excited about starting your happy life as I am about living mine and sharing it with all of you.
Thanks for reading this far. 🙂