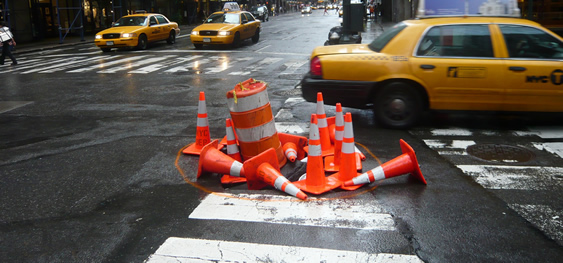 Life can be a lot like potholes; you start to learn where they are and how to avoid them. But what happens when you keep hitting the same ones? Maybe you should start thinking about a new route. Pretty simple huh? So why don't we apply the same thinking to behaviors that continually cause us emotional pain?
"The definition of insanity is doing the same thing over and over again and expecting different results"
–Albert Einstein
Most people avoid pain if possible; much like potholes once they know where they are. Albert from Urban Monk post titled False Patterns, False Meanings reminded me how strongly I had clung to "my story" for so many years. Most of us have a story (or two) that defines us, influences our decisions and has a lot to do with our perception of the world around us. The amazing and almost scary thing about my story, was I didn't even realize I was living it. I can see my old story clearly now that I'm living a different one.
My Old Story
I'm not good enough. Period. OK, there was more to it than that, but basically just all the "stuff" that goes along with not being good enough, such as the inability to give and receive Love completely and "add fear du jour here." As I mentioned above, I didn't realize I was living this story, its just the way things were. Mostly I played out the story to avoid emotional pain. If it was uncomfortable (e.g. intimate relationships) I went the other way and would eventually hit the same pothole again; different person, same results. Insanity.
I remember one girl I dated who started discussing marriage and buying a house after several months of dating. I really liked her, not sure if I loved her, but that talk made me feel really uncomfortable. Not because I thought the relationship was moving fast, but because I didn't feel worthy of having a house. My credit was bad, I was not husband material, all these stories about who I was influenced my decisions and actions. A few months later I gave her the "it's not you, it's me" line. Most my relationships ended that way, although many also ended with them saying, "it's not me, it's you." Which just meant they beat me to it. Moreover, I did not realize this was what I was doing; I thought I was busy following my dreams.
My New Story
I am good enough. Period. And yes, there is SO much more to it than that which is what this entire blog is about.
The difference today is I don't avoid emotional pain, even though I rarely experience any. At least not yet, but I know I will; its inevitable. Today, if I experience emotional pain, I can feel it for what it is and move on. It doesn't have to define me or become part of my story. The more often I do this, the more I get comfortable with overcoming fear of emotional pain.
Like the potholes on my route home from work, I hit them a few times the first couple of days as they grow deeper, but I know where they are now and with careful adjustment I can miss them entirely. Someday soon they'll be filled and new ones will develop somewhere else and I'll have to learn all over again. But at least I'll keep driving, and I'm grateful for that.
photo credit: iamos