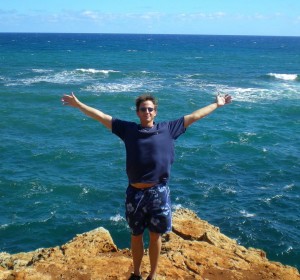 If you want to be happy in life, you have to be happy with who you are; whether you want to or not. You have to live with YOU everyday, so you might as well learn how to get along.
People often ask me, how are you so happy all the time? The answer is pretty simple, I'm happy with who I am as a person. But that wasn't always the case.
When I started on this journey—on how to be happy in life—happiness was not really what I was looking for. What I wanted was peace of mind and a reason to live. My journey began out of desperation.
The concept of happiness wasn't even on the radar; I just wanted a reason to get up each morning. I know that sounds depressing because it was. Being happy in life seemed impossible because of all the things I had either done, or failed to do in my past.
As most great mothers do, my mother had always instilled in me the idea that I was great. That I could achieve anything I set my mind to. She would say, "Shoot for the moon son, the worst that can happen is you miss and land amongst the stars."
On the outside, I was this happy-go-lucky guy, always positive and full of energy and good for a laugh. But inside I was still searching for my purpose in life and how to be happy. Consequently, I bounced around from many career and relationships; trying to find something that fulfilled me.
Early out of high school I thought I found my calling in zoo keeping; something I'd dreamed of doing as a kid. But even after a few years of that I got bored with life. It was then I think I resigned to the idea that life was going to be a real drag. That I would always be searching for the BBD—Bigger Better Deal.
Looking back now, I realized I had no emotional connectedness with self. I had no idea what I needed to be happy and certainly no way of expressing or going after it. Of course I thought it was about winning; achieving financial success and outdoing the next guy.
Being happy in life is not about winning. It's about learning; learning the truth about yourself and that everything you need to be happy is already inside you.
If you make a commitment to learn the truth about yourself, what you're good at and have to offer the world, you'll find happiness whether you want to or not. Of course the idea of not wanting to be happy in life sounds silly; why would anyone not want to be happy?
Take a moment to listen to your inner dialog. What do you hear? Is the voice speaking kindness or is it constantly berating you? If it's saying you're no good, then maybe in some way, you don't want to be happy. I know… crazy right?
In my case, the voice used to say all sort of negative things; and still does at times. My fear was that if I learned the real truth about myself, I wouldn't like it. That maybe I was incapable of living up to the ideal person I wanted to be. Or worse yet, what if I strived for that ideal and achieved it and still unhappy? Then I was really screwed.
Another obstacle to happiness is the attachment of our identity to our past. It defines who we are; i.e. a victim. Without it, we're not really sure who we'll become.
You must be willing to let go of the person you think you are in order to find the person you are meant to be.
Maybe it's not as simple as we just don't want to be happy, but more about the fear of not living up to this ideal perception of self. A large contributor to unhappiness is the constant comparison we make between ourselves and others. That's why it's so important to find out what you're good at and what makes you unique. Trust me; you have something special that no one else has to offer the world.
Of course finding that something special can be difficult. But more than likely you already know what it is. Maybe you love gardening or have overcome some obstacle in your life like I have with mine. If you're passionate about it, odds are someone else is too. There's opportunity to offer what you know or have learned with someone else.
But remember you don't have to be the best gardener in the world, just be the best you can be. It's not about wining.
There is one caveat to this… to make sure we're not putting all our energy into something to keep from focusing on ourselves. I see it all the time and you probably do too… I even do it myself. That is being such a people pleaser and caregiver that I spend all my time trying to make others happy. Don't forget about yourself, and be careful that your self-worth is not about how others view you or how much you can do for them. I'm just sayin'
Here are 5 ways to be happy in life:
1. Find out what you're good at. It's a fact, you're unique. There is no one else in this world exactly like you. Thank God. You have something amazing to offer this world. Find out what it is and embrace it.
2. Develop Humility. I talk about humility a lot because it's been instrumental in my happiness. People often get confused (self included) on what exactly humility is. Humility is not thinking less of oneself, but thinking of oneself less.
I've never been a real cocky guy. For most of my life, although I appeared outgoing to most, I considered myself shy. Shyness is a form of self-centeredness; making everything about me. Humility for me is about understanding that I'm not the center of the universe. It also has a lot to do with honest self-appraisal; like being able to identify my motives in all aspects of my life.
3. Find Love. I always say love must start with self. But even in my case, I didn't have this at all when I started my journey into happiness. I borrowed love from others (like family and close friends) until I could establish emotional connectedness, empathy, and love for self.
4. Build Relationships. Healthy, meaningful relationships add value and happiness to our lives. This is where we get to put into use the things which we're good at as mentioned in #1.
For me, once I learned about humility and having love for self, deep relationship with others just seemed to start appearing in my life. Before I started on this journey of self discovery and how to be happy, most relationships were created to gain something. It was all about me; what will I get or lose out of having this relationship? Today, it's more about what can I bring to this persons life to make it better?
5. Be Grateful. Gratitude is an action. We take care of things we're grateful for. This includes yourself and all the relationship in your life. But it must start with self. If you're not grateful for who you are and what you have to offer the world, you'll never be happy.
Being happy in life is about being happy with who you are. Period.
Find out who you are, what you're good at, and you'll discover—whether you want to or not—how to be happy in life.