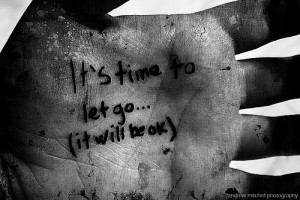 Lately I've been studying the term Live and Let Live.
This may mean something different to you, but what it basically means is stop trying to manipulate things you have no control over, i.e. letting go.
I think this definition from TheFreeDictionary.com sums it up nicely, "to accept other people as they are, although they may have a different way of life."
Regardless of where I'm at spiritually, the Serenity Prayer most often comes to mind when I think of letting go.
"God grant me the serenity to accept the things I cannot change; courage to change the things I can; and wisdom to know the difference."
For me, this prayer and mindset can be used in almost any situation regardless of your belief system. This list could possibly be just to recite this prayer nine times, which has worked for me before. But that would be too simple and if you're like me, I sometimes think I need options. Here are 9 ways of learning to let go:
1. Serenity Prayer
I use this prayer all the time, it works great in the middle of traffic. I helps remind me that there are just certain things I have no control over. Moreover, to concentrate on the things I can control.
2. Ask Yourself the Question: Is it really that Important?
I love the saying, "I'd rather be happy then right." The idea that we have to be right to be happy is our ego telling us we're separate or better than others. It's our fear of inferiority speaking, telling us we're separate from and need to be better than others. Thinking "I'd rather be happy than right" reminds me that I DO have a decision in the matter.
3. Make a Decision
Often times we forget that we can simply make a decision to let go of something. Recently I was asked to do something at my job, participate in something since I had a specific talent they needed. Initially I agreed but felt sort of uncomfortable with the situation.
I'll just tell you exactly what happened: I'm a singer/songwriter (hobby) and some colleagues wanted me to sing a song they were going to write in front of our company. Initially I agreed to do it and they sent me home with a rough outline of the lyrics. It was basically going to be a roast towards a particular individual and could have been funny, but I don't feel comfortable saying things intended to poke fun at others. Besides, humor is extremely subjective. After thinking and praying about it over night, I explained to them I wasn't comfortable doing it and declined.
We can make a decision to stay true to our values and let go of our need to please everyone. Even though my first thought or decision may not be the right one, it's the action I take upon which I will ultimately be judged. We are judged by our actions, not our thoughts or intentions.
4. Be Understanding Rather Than Understood
Walk a mile in their shoes. If only for a moment, try and find some empathy or understanding for what the other person is going through. Remind yourself that from their perspective, this is important. That even though you may not agree with their situation or emotion, it's just as real to them as everything is to you. That at that moment, it is about them and not about you.
5. Things Happen around You, Not To You
Whatever you believe someone has done to you, ask yourself if you've ever done the same thing. Be honest. Moreover, whatever you thought was done to you, is more about the other person than you. Let them own it. This goes for events also; it's pretty arrogant for us to think the entire world revolves around and is conspiring against us.
6. Meditation and Prayer
Prayer is the action of seeking or asking for guidance, from whatever power, God, or higher being you choose. Meditation is then the action of actually listening for the answer. Personally, this always works for me when I remember to use it. When I'm finding it difficult to let go of something, I'll pray and meditate about it for days, weeks, or even months. I never ask for specific things, which is just me trying to remain attached to the outcome, which equates to expectations and ultimately resentments. I pray for acceptance and to be shown where I can be of service to others.
I suppose there is one exception to praying for specific things; if I have resentments towards a particular person, I pray for them to have love, peace, happiness, and all the wonderful things I have and want in my own life. I continue this until the resentment is gone… days, weeks, months, years.
7. Stop Being a Victim
A victim is a spectator in their own life. As long as you're a victim, you will be victimized. That's not to say bad things don't happen to good people. But things happen and it's what we do after they happen that defines us, not the event or action itself.
8. Stop Holding On
Oddly we often hold on to things that are hurting us the most. Most often this is because we feel as if we have an emotional attachment to the outcome. Thus we grip it tightly and wrestle with it thinking we can change the outcome; when in reality we have no control over it whatsoever.
The key here is to identify the attached emotion. What is the emotion that will be effected by the outcome? Fear, security, loneliness? Once you identify the emotion, work on letting it go. If you stop holding on, gravity will take care of the rest.
9. Be Part of the Solution and not the Problem
There are times when we may have the solution, and better yet, someone is willing to ask for our help and accept what we have to offer. Giving a solution, suggestion, or advice is one thing, yet you should avoid doing too much for them. Especially if they're capable of doing it for themselves. When we enable, or rob someone of the opportunity to learn, we keep ourselves emotionally attached to the outcome. This makes it harder to detach and let go later if we need to in order to remain healthy.
Always remember you can detach with love. Detaching from the emotional outcome does not mean you don't care, it simply means you're wise enough to know what you can and cannot control.
Letting go is much easier when we are not attached or emotionally invested to the outcome of a situation. Several years ago a friend let me borrow a CD by Dr. Wayne Dyer. In it he talked about one of the ingredients of self-enlightenment (I'm paraphrasing) which was having no emotional investment in the outcome of situations or relationships with others. I found the notion almost absurd at the time but have come to realize and experience the power behind the concept. True happiness comes from within ourselves. When we're closest to accepting ourselves totally for who we are we need less validation from the outside world; i.e. emotional attachment to outcomes.
Exercise for Letting Go
I'm practical minded and like physical actions to help me accomplish something I desire emotionally or mentally. Here's an exercise I use when there's something I need to turn over and let go.
Most often I do this while sitting up in bed. I sit up and put my arms out in front of me with palms facing up and fists closed; like I'm holding onto a barbell. I clinch my fists tight and visualize holding whatever it is I can't let go of (expectation, missed opportunity, relationship, etc.). I then slowly turn my fists over so they're facing down; turning it over. I hold my arms out there for a minute or two and feel the weight of the emotion or attachment pulling down my arms. Next, I open my fists and let go. I visualize whatever it is I'm holding onto (person, emotion, etc.) falling from my grasp, floating down, free and floating away into nothing. Now I feel the lightness of my arms and take a couple deep breaths and feel the relief through my shoulders, chest, and mind.
I understand letting go can be extremely difficult, especially when dealing with family members. How can we let go of the outcome when we see them about to make a horrible mistake? Ask yourself, how do you know it's a mistake? Did you do this same thing at some time or another? Have you repeated it since? If not, then you learned your lesson; allow them the same opportunity, it will have more meaning. If you haven't had the experience yourself, explain to them why you think it is a mistake or how you feel. Change your perspective and allow them to live their lives; if they decide to go ahead with it, it's on them and their burden to carry.
"Peace is the result of retraining your mind to process life as it is, rather than as you think it should be."
-Wayne Dyer, There's a Spiritual Solution to Every Problem
Detaching ourselves emotionally from the outcome of situations is easier said than done. It does not mean we don't care, we're just taking responsibility of what we do have control over while allowing others to do the same. Live and let live.
photo credit: admitchell08