Podcast: Play in new window | Download
Subscribe: RSS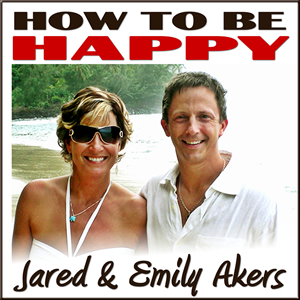 It's here! The first session of the How to Be Happy Podcast with Jared and Emily Akers.
You may download the podcast to your computer or listen to it here on JaredAkers.com. Additionally, I will be submitting the podcast feed to iTunes soon, so you'll be able to subscribe through there as well – hopefully that will be ready by the time our next episode is live. I'm also working on getting the episodes transcribed so there will a downloadable .PDF version of the show (I'll add that to this page in a couple days after the transcription is finished… I'm still working out the entire workflow process).
We plan on doing a weekly session at this point, but we're not setting any expectations…. So don't hold us to that. We look forward to exploring many topics from life, love, relationships, self-respect, travel, and keys to living a happy life; all from personal experience.
Here's What's in The Show
Since this is our first podcast, we spend a little bit of time at the beginning introducing ourselves and give a little back-story.
Here's what you'll find in this session:
Welcome:
Maiden episode of How to Be Happy Podcast
Introduced myself, Jared Akers and my wife Emily
Episode Topic: How to be happy in a relationship when there's been infidelity
Back-story:
Why we started doing this, a little about our past (my bottom March 2006)
Why we're qualified (unhealthy relationships)
Inviting God into our lives
Working on Self-Discover, inner-peace, happiness and self-acceptance – ALONE!
Met February 25, 2007
Married December 2, 2008
Friends and Family members always asking us: why or how are you so happy? Get along? etc.
Topic:
I get emails from people all over the world asking questions about happiness, and this topic is one that has come up often. In this show my wife gives some first-hand experience with the topic as we discuss things like:
Is it possible
Honesty
Forgiveness
From the perspective of the offender
From the perspective of the victim
Trust
How it affects the children
We hope you enjoy the show and we're looking forward to sharing more with all of you in the future.
If you have any topic suggestions, feel free to email them to jared (at) jaredakers (dot) com.
Please subscribe below to the podcast to get automatic updates:
Click Here to Subscribe via iTunes!
Click Here to Subscribe via RSS (non-iTunes feed)
Transcript
Click here to download the transcript for this episode (PDF).