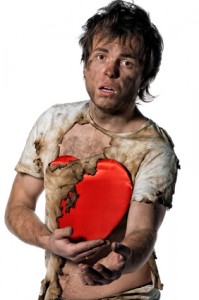 You hear people say it all the time: "Everything Happens for a Reason." But does everything happen for a reason? Or is it our job to give reason to it?
This saying, or idea, intrigues me. My logical brain (which I try not to entertain too much) views it as a tool for dealing with acceptance, although this tool only works when we choose to use it ourselves.
Most of us know you shouldn't walk up to someone who just experienced some tragic event, be all optimistic and say, "everything happens for a reason dude." You may get punched in the face for good reason.
In a sense, I don't believe everything happens for a reason. Yes, I believe God reveals things to me or puts people and circumstances in my life, but it's what I learn from those experiences that brings reason to them. It's more a matter of faith; faith that no matter what the obstacle, I can get through it and learn from it. A faith that only comes from experience. Prior to developing this faith, I was constantly filled with fear and anxiety.
Before I got all spiritual, I was the erector set kid. If I couldn't take it apart and see what made it tick—a control thing—it didn't really interest me. And no way was I going to turn my will and life over to circumstance; let alone God or a Higher Power.
What I learned from my experience was to let go. Not just let go of control, but let go of everything! Every thought about what life meant, every fear of not being liked and ALL the stuff that comes with it; most importantly every idea I had about spirituality. Once I chose life, every decision from that point on was easy. It was suggested I work some type of spiritual program, so I did. My experience tells me that I'm a spiritual being—simply because it feels right. I feel more at home with my soul and self today than ever.
Did me hitting bottom and finding a spiritual life happen for a reason? I don't know, and I don't care. What I do know is the life I have today because I survived and learned about living a spiritual life, is what I had been searching for all along. And while I see many others like me not make it, it's hard for me to tell their friends and family they died for a reason. I pray for them to have the strength to learn from their experience; to learn something they can pass on to others, and to learn they now have faith to walk through just about anything.
Maybe everything doesn't happen for a reason; but rather it's what we learn from the experience that GIVES it reason.
"Everything doesn't happen for a reason; it's what we learn from the experience that gives it reason." – Click to Tweet
Everything Happens for A Reason is a Cop-Out
For some reason, hearing people say "everything happens for a reason" annoys me sometimes. I'm not sure why, maybe it's a sense that they're not taking stock in the significance of a situation or experience. Maybe I'm jealous they're not more upset about a situation. Honestly, I'm fairly certain its rooted somewhere near self-righteousness.
Maybe the annoyance comes from the idea that people may believe that someone, or something would cause harm in order to teach us a lesson. Personally, I think that's BS. I'm a firm believer in an all-loving God. I heard or read something somewhere that made sense to me. Either you believe in Love or you don't. If love is pure and true, then there really is nothing else. There's no hatred or evil, only lack of the presence of love. Suggesting rewards and punishment for actions and behaviors sounds more like marketing than truth to me.
I used to see people on TV after a terrible accident–maybe they lost loved ones–saying "everything happens for a reason." I'd think, "You idiot, you don't even know what that means… what's the reason then, huh?" What they really meant to say is "I'm making up shyt to make myself feel better right now… I'm in denial." But isn't any idea or reaction (regardless of how idiotic it seems) that helps someone deal with a loss good? I think so.
Getting to the Place Where You Believe that Everything Happens for a Reason
Getting to a place of acceptance can be hard. On one side you have the concept that you're not unique, and that everyone goes through similar experiences in their lives. On the other side, you have the concept that you need to seek help, talk about things, and participate in your recovery (from whatever it may be).
The most important thing about acceptance is you don't have to like it. Accepting something does not mean I have to like it. It means I accept it to be real; I now have the power to do something about it.
On June 25th of 2010 my father was diagnosed with terminal cancer. Ten days later, on July 5th, he died on his dining room floor in the arms of my mother. We're thankful he didn't have to suffer the painful experience of terminal lung cancer.
An important part of healing is acceptance. A huge part of acceptance is humility. Something that helps me with humility is the simple idea that things in life happen around me, not to me. Honestly, to think that all this crap is happening to me is a pretty narcissistic view.
I don't believe I'm taught a lesson. I believe it's up to me to learn from life's experiences and use it to make myself better. It's my job to heal, not question why things happen. But it would also seem that believing every thing happens for a reason, does open up us up to the possibility of finding that reason.
If I am to believe that something happens to me for a reason (that an unseen or future event is coming which will be good for me regardless of the temporary pain I'm experiencing), then that would be accepting the concept of a force inflicting pain to instill a lesson. I don't believe that.
Would you cause your child unimaginable pain or suffering just to teach them a lesson?