Podcast: Play in new window | Download
Subscribe: RSS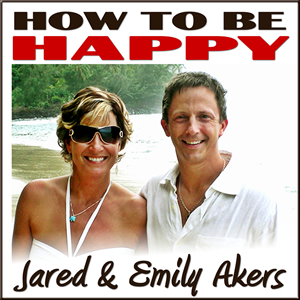 In this session of the How to Be Happy Podcast, Emily and I sit down to discuss managing expectations. Everything comes back to being happy with who you are and willing to accept life on life's terms.
"Wearing life like a loose garment."

"Expectations are resentments in training."

"Today's expectations are tomorrow's resentments."
Some topics you'll hear in this episode:
Expectations are instilled in us at an early stage in life. Parents set expectations of us from the beginning (learning to walk, how to act, teachers have expectations, etc.)
The term "they have so much potential" – sticks in Jared's crawl. It suggests that love or acceptance is conditional.
Setting expectations of oneself based on what we think the world wants to see. Can result in living conflicted with our inner self.
It's freeing to allow people to be who they are, accept them for who they are not who you wish they were.
Putting expectations on self and others is a lot of pressure.
Lowering expectations does not mean compromising our standards (moral or values)
Confusing goals with expectations, it's good to have goals and high standards, but avoid attaching our happiness to the outcome.
Setting expectations limits the possibilities.
We discuses Jared's expectations of a recent vacation in Belize and how we dealt with it.
Lowering or removing expectations of others opens us up to connecting on a deeper level – removes perceptions or what a certain "type" of person should be like.
Having expectations of children and there are going to be disappointments.
Making the shift from having expectations placed on us as children, but once we fly the coup, the responsibility is now ours.
We have expectations of ourselves based on the models we've had in our lives; hopefully they're healthy ones.
Accepting your children for what they have to offer, instead of what you want them to be (e.g. sports as a child)
Expectations can also go the other way, in that we can expect something to be worse than it really is or will be.
Tolerance and crazy drivers
Expectations in dating – whether our relationship was heading in the same/right direction. Communication is important.
Sharing what you want with someone and then allowing them to figure out if they can give it to you.
Please subscribe below to the podcast to get automatic updates:
Click Here to Subscribe via iTunes!
Click Here to Subscribe via RSS (non-iTunes feed)
You can call our How to Be Happy phone line and leave a question or topic you'd like us to talk about! 775-234-8373