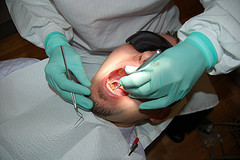 Last Thursday I went to the dentist for my 6 month cleaning. I used to really hate the dentist. Then I got into this sort of attitude where I felt I deserved any pain the dentist inflicted on me, that it was some how my punishment for not taking care of myself. I don't feel that way now, I take care of me teeth and enjoy hearing praise on how clean I'm keeping my teeth.
Ok, sorry for the little rant on my history with the dentist… now to the topic of this post, "the little things." What I'm talking about is how much more enjoyable life is when you have someone to enjoy life's little things with.
You know the bag of "goodies" you get when leaving the dentist office? You know, the new toothbrush, the travel size toothpaste, dental floss, etc… Before I met my wonderful Emily, I would usually throw those away (or stick them in a drawer in my bathroom until I moved, then threw them away), I mean who needs "another" tooth brush and a travel size of toothpaste? Emily loves toothbrushes, she has one in almost every room in the house and most certainly every bathroom. She likes getting new ones, cool ones!! You know with the bendy heads and the ones that get into the "hard to reach" places. She also has a "thing" for toothpaste and at any given time has at least three brands in the master bath and several others throughout the various vanity's around the house. So as I'm leaving the dentist office and walking down the steps to the parking lot, I lift up my bag of "goodies" in front of me for another look at the crap they just gave me, then I giggled and got excited inside. "Emily will think this is cool!!" I thought to myself, I even got some of those awesome little brushes for cleaning in between the teeth… she loves those! It's right then I realized how COOL it is to share a life with someone who can teach you more about appreciating "the little things" and how to be happy with all of them.
Thanks Emily 😉