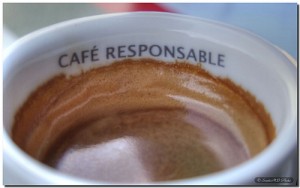 I like routines.
Years ago I was living in a house with six other guys. The house was run by a non-profit organization and served as a transition for guys early in sobriety trying to get back on their feet. Literally. Each house member was assigned chores; one of which was cleaning the living room. As an early riser, I was usually the first one up and to make coffee. While the coffee was brewing, I would prepare my lunch for the day, then enjoy a cup of joe in the living room while reading my morning meditation books. Leaving my coffee on the coffee table, it was off to the shower with the intention of returning to finish my coffee before leaving for work.
"There's only one corner of the universe you can be certain of improving, and that's your own self."
-Aldous Huxley
Remember now I'm living with six guys, one of which would normally be up by now as well. His chore happened to be cleaning the living room and since he didn't usually return home till later at night, he would always do it first thing in the morning and inevitably while I was in the shower getting ready for work. As a result, he would always pour out my coffee and put the cup in the dishwasher. This frustrated the heck out of me. I would tell him to leave my coffee cup alone, but he continued this selfish behavior every morning. I couldn't understand what was so freakin' hard for him to understand. Leave it alone!!
Finally I mentioned something about it to a friend. His response, "why don't you just take the cup of coffee with you?"
Crap.
I learned a simple lesson. Many times, a simple change in my own behavior is all that is needed to increase my happiness and serenity. By just changing a single action—my own—I can avoid frustration and stop making unreasonable demands on others.
What small changes have you made that have increased your serenity?
photo credit: . SantiMB . (uninspired)
Well I'm back from vacation. Curacao was incredible and the diving was great. If you're ever on Curacao and like to dive, I highly recommend Suzy and Mark of The Dive Bus. I'm still working on the happiness article/series I mentioned before we left for vacation. So stay tuned for that!