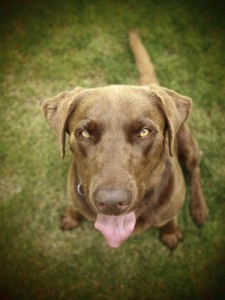 A few years ago I was sitting in a support group discussing humility when a burly man shared, "I just wake up each morning and try to be the man my dog thinks I am."
That made sense.
Maybe you've heard the saying: act as if?
If only it was that easy. Act happy and you'll be happy, act strong and you'll be strong. Of course it's not that easy… or is it?
Author Francine Ward suggests, "Self-esteem comes from doing esteemable acts." The key word in that quote is doing. Never has any significant life changing event taken place in my life from just sitting around thinking about it.
Taking action, or acting as if, puts us out into the universe where we can interact with others, receive feedback and change the course of our lives and those around us. You'll get better results if you strive to live your way into right thinking as opposed to thinking your way into right living.
Most of my life I worked towards being the man I thought everyone wanted me to be; instead of whom I was meant to be. As for humility, it was more of a tool to getting something I wanted as opposed to a virtue or character building.
Most often I experienced humility as the result of making mistakes or experiencing emotional pain. The realization that we can choose humility as opposed to having it beat into us can be life changing.
It's Not All About You
"Humility is not thinking less of yourself, it's thinking of yourself less." – Rick Warren
It's common to confuse self-deprecation with humility. Start listening to your inner-dialog, pay attention to what it's saying about you. My wife put this into perspective for me shortly after we met. After doing something I was embarrassed about, I mumbled to myself, "that was stupid you idiot!" She overheard me and responded, "Hey, don't talk to my friend that way!"
The less our thoughts are consumed with self, the more open we become to the endless possibilities around us; like being of service to others.
When I started a new job several years ago, my life coach suggested I introduce myself to three new people in my office each day. My response was, "That's so not me, I'm shy don't you know?" His response, "Jared, it's not about you."
"Shyness has a strange element of narcissism, a belief that how we look, how we perform, is truly important to other people." -Andre Dubus
Being more concerned about how we look to others impedes our ability to be of service. Being of service to others is certainly one way of thinking about oneself less.
Regardless of your profession or position in life, you absolutely have something unique to offer the world. It's all about perspective.
From the movie Peaceful Warrior:
Dan: "Hey Socrates, if you know so much, why are you working at a gas station?"
Socrates: "It's a service station. We offer service. There's no higher purpose."
Dan: "… Than pumping gas?"
Socrates: "Service to others."
Be the Human Your Dog Knows You Are
If you're a dog owner (or ever have been), you know the incredible feeling of loyalty and unconditional love felt from our pawed friends. They know you're great. They love you regardless of your profession, education, physical appearance, or personal drama.
If you seek humility through honest self-appraisal and self-searching, you will discover the person you were meant to be. And that person has a gift the world is waiting for; the person your dog already knows you are.
Here are 5 Tips on Humility
Seek Less Emotional Investment
This sounds counter intuitive, but the less emotionally involved you are in the outcome of situations, the less your ego tries to manipulate them. As you become more humble and altruistic, you need less external validation; making it easier to become less invested emotionally in the actions of others. Don't confuse this with caring less but concentrate more on unconditional love.
Stay Focused on Your Side of the Street
It's easy to get consumed with what everyone else is doing wrong. It also keeps you stuck in the problem (blame) and out of the solution (acceptance and responsibility).
Seek  A Realistic Self Image
For years I went around thinking I was this great, altruistic guy.  Yet I was confusing my intentions with my actions. As the saying goes, "we're judged by our actions not our intentions." For example, in relationships I would always think about getting my girlfriend flowers, but rarely followed through. Take time to examine your actions and see if they're consistent with your intentions.
Seek Spiritual Guidance
Depending on your beliefs, one simple way to think of humility is to seek and do God's will. Spirituality is a huge part of my life and something I practice every day. However, early in my journey towards self-discovery and happiness, I had no idea what I believed in—let alone what God's will was for me. But I absolutely knew the difference between right and wrong and I knew what God's will (if there was one) was not. It was not living an unhealthy life style and being unkind to myself and others. So that's where I started.
Random Acts of Kindness
This is certainly a buzz term and action these days. But it works. Doing random acts of kindness for others builds self-esteem, character, and if done anonymously, humility.
Humility can be tricky, but when in doubt, just act like the person your dog thinks knows you are.