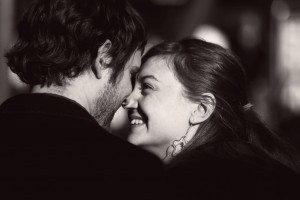 My wife said something a few weeks ago that put love in a new perspective for me. Her mother was killed when she was 20 years old; she said, "After my mother died, nothing in life was ever as good as it could be. Don't get me wrong, things are good and even great, but when something great happens to you, the first person you want to share it with is your mother."
That is what my relationship with my wife Emily is like. It's about sharing the little things that makes life so grand.
A few months before I proposed to my wife, I considered moving on. In the past, when things got too real or too-good-to-be-true, I bolted. The thought of anyone knowing the real me was scary, I mean I didn't even know the real me. That was in the past. For the previous two years, I had been working on myself through a spiritually based recovery program. I was also seeing a therapist to deal with this specific relationship—trying to determine what I wanted for myself in the future. Through the process, I had come to know and accept myself, the good and the bad, but more importantly, I realized Emily did also.
While projecting into the future and seeing all the things I wanted to accomplish, I saw two versions. One with me on top of the world—getting a song published, writing a book, helping others in recovery. However, I was alone. The other version, simply had Emily in it. I realized that even if I accomplished one of those things, without someone to share them with, they meant nothing. But it wasn't just "someone" anymore, it was Emily.
When something great—or not so great—happens in my life, Emily is the first person I want to share it with. Sharing life's great adventures and gifts with her makes them as great as they can be. Love is much better when you experience the true power of love & relationships. Moreover, times of sadness and pain are not as sad as they would have been.
That's just one thing love is to me, what's it to you?
photo credit: HAMED MASOUMI