Podcast: Play in new window | Download
Subscribe: RSS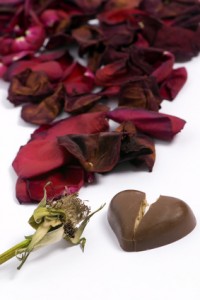 Emily and I discuss the concept that you are not your relationships. We had a listener leave a heartfelt message on our podcast line about a recent breakup.
To set this up, Dr. Dyer in his book Your Sacred Self: Making the Decision to Be Free, he discusses the idea of the ego and spirit living in the mother's womb.  How spirit knows there's something greater out there. And that we (in physical form) come from no-where to now-here but then return to no-where.
You are not your relationships. Certainly the love energy between you and all of those in your immediate circle is very significant, but it is not who you are.  You are an individual soul that is connected to the whole, but you are not the relationship to that whole.  Your identification with your relationship provides you with great frustration because every time there is a glitch in it, as there always will be, you find yourself feeling worthless.  Remember that you are eternal, that which is changeless. You are in a great number of relationships, all of which have validity, but they come and go just like your life here in form comes from no-where and goes to now-here and then back to no-where. It is a relationship of coming and going, and thus it changes.
There's a difference in not knowing what to do, or not wanting to accept something. And accepting something does not mean we have to like it.
Often we seek acceptance rather than Love, more precisely love for self.
How to make a move when you don't know what to do? Sometimes doing nothing is the best thing to do; which in itself is doing something.
Even if we find ourselves hurt in a relationship, be grateful that we're able hurt at all.
Every negative (seemingly) circumstance, relationship, or event in our lives is here to teach us a lesson. Learning and passing these tests, gives us the positive energy to transcend these difficult circumstances and come out better (more spiritually fit and emotionally mature).
It's unfair to expect your partner in life to be there for everything. Certainly they're there to support us when it matters, but also realize they are individuals and have lives as well. It's important to have others we can lean on for support.
We're all connected.
Topics in this episode:
Please subscribe below to the podcast to get automatic updates:
Click Here to Subscribe via iTunes!
Click Here to Subscribe via RSS (non-iTunes feed)