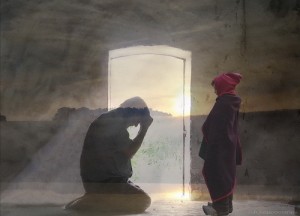 Welcome back to The Spiritual Serenity Series: 7 Steps to Inner Peace and Happiness. Last week we looked at Identification. This week, we are going to look at self-searching.
Step 4: Self-searching
Now that I have identified my problem, I'm set right? All I need to do is stop doing that! After all, knowledge is power! For me, it was not quite that easy. I self-educated myself for years, it did not work. I could avoid making the same mistakes or feel good for a period of time—years in s0me cases—but without an entire psychic change, I eventually found myself in the same state, defeated and depressed. Self-knowledge alone did not work.
What I needed was some humility and an honest self-appraisal—humility gained by honestly looking at my life and how I was living it. In recovery, we call this a moral inventory. We need to identify the unsalable goods, the character defects that are hindering our spiritual growth.
"Self-searching is the means by which we bring new vision, action, and grace to bear upon the dark and negative side of our natures. With it comes the development of that kind of humility that makes it possible for us to receive God's help. . . . we find that bit by bit we can discard the old life—the one that did not work—for a new life that can and does work under any conditions whatever."
– Bill Wilson in As Bill Sees It
The process of self-searching, ironically, is difficult to do on your own. Personally, I needed help from someone who knew what he or she was doing, someone who had been through the process and could guide me through it. After all, my own thinking had gotten me into this mess; it was an unreliable source. I sought someone who understood what I was trying to do, in certain recovery programs we refer to this person as a sponsor. Moreover, I have also used therapist and counselors to help me through the process.
"We can't solve problems by using the same kind of thinking we used when we created them.
–Albert Einstein
This process revealed to me some patterns and areas of interest in my life (these are just a few and are in no particular order):
I want to be loved and accepted
I am afraid of rejection
I do not love myself
I am not happy with who I am
I am full of guilt and regret
I want close relationships, but have no idea how
I will never be completely satisfied; thus I am not capable of being happy
If you look at my list, you'll notice some of the items are conflicting.
I want to be loved yet I am afraid of rejection. Consequently, I never took the chance of finding real love.
I want to be loved but do not love myself. That sure sounds like a tall order doesn't it?
Sure people can love me without me loving myself, but to experience the true wonders of love with another human being, we must love ourselves. At least that's been my experience. Not until I learned how to accept and love myself was I truly able to give it away. After all, we can't give away what we do not have. By giving away love, I experience the true beauty of it and am more open to receiving it.
It is important to note here that I was not necessarily aware of any of these issues or that I was suffering from a spiritual sickness. For the most part, I felt I had a high self-esteem and held a positive self-image. It was months, and in some cases, years before I realized this was not the case.
For example, "I do not love myself." People were always telling me how positive I was and what a great sense of humor I had. I confused looking good on the outside with feeling good on the inside. It was not until years later, once I developed a true loving and empathetic relationship with myself, did I realize what that meant. The process made me realize that if I truly had loved myself, there were things in my past I would not have done. I have come to realize through this process and spiritual growth, what a loving relationship with myself feels like. I can see now that by treating myself the way I did, I was not treating myself as someone I loved.
The identification process for me came through the 4th and 5th step of the 12 Steps of Alcoholics Anonymous. Step 4 is, "Made a searching and fearless moral inventory of ourselves." And step 5 is, "Admitted to God, to ourselves, and to another human being the exact nature of our wrongs." How you decide to identify your areas for change may be different, however I do suggest that you ask someone to help you such as a therapist, chaplain, or someone qualified in self-appraisal.
It helps to look at this process as if you are a storeowner. What products do we have in stock that is taking up valuable space? Shelf space that could be used for goods that are more salable. Goods people want and add real value to our lives. Goods that add to our spiritual condition and the well being of others.
So we take a good look at ourselves, we get out a pen and paper and start writing down things we resent and fears that we have. Notice I said pen—and not the erasable kind either! We right down events or things that have happened to us that cause resentment and anger. Personally, I went back from the time my memory began and wrote down the name of every single person I could remember meeting in my life. That gave me a starting point of seeing if I felt any anger, resentments, or harbored feelings against anyone from my past. After that, I searched my memory for any events that caused me fear or anger regardless of who was involved. I wrote them down as accurately as I possibly could. This also included any sexual experiences that I felt guilt or remorse over. (honestly, I wrote down everything! Again, I was not qualified to determine which items needed reviewing, so I wrote them all down and let someone more qualified determine which ones needed looked at). Yes, we're talking about sex here! Nothing is held back—after all, it is a complete and fearless moral inventory. It is at this point I truly begin getting honest with myself.
I was amazed at how many sheets of paper I filled. To think that all these years those pages and pages of thoughts had been running rampant through my consciousness. Just think about all that fear, anger, resentment, guilt,  and shame running around rent-free in your head. Swirling around feeding off itself. During this process, we also find that many of these events have taken on a life and story of their own over the years. Meaning, that a lot of them… how should I say, were not what actually happened. Over the years our minds will start to shift and shape events to feed our feelings of fear or insecurities. Why not? After all, we will get valuable mileage out of these events during our self-deprecating moments.
Once we get all these thing down on paper, we look back over them one by one. But now, we write down what our part was. Why did we get hurt? What did we do, after all, were we not partly to blame in some if not all cases? We take a long hard look at what our part was. In some cases, we may have had no part at all, but this is our inventory, so we do not point the finger at others. If we had no part, we move on accepting that our part was simply our presence.
The amazing thing about this process is we begin to see patterns and themes to our life. We look back and see how we continually placed ourselves in situations to be hurt. We constantly chose relationships with partners who were emotionally unavailable. We put unreasonable expectations on ourselves and others and as a result were constantly disappointed.
The goal of this entire process—all of these steps—is to rid ourselves of those things standing in our way towards spiritual growth. Some call it baggage or character defects. Call it whatever you want, but the reality is, they are getting in our way of real growth and causing us misery. We must rid ourselves of the obstructions that are getting in the way of our usefulness to God, our fellow human beings, and ourselves.
If you have come this far as I have, we are well on our way to a life based on spiritual principles. Principles that can and will lead to true happiness and serenity.
See you next week when we talk about Step 5, confession! (don't sweat it, we're in this together and its not as bad as you think)
photo credit: h.koppdelaney