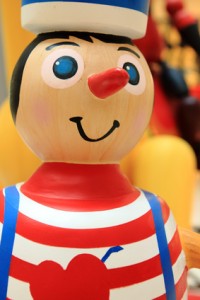 Are you trying to alter the lens of others in order to be liked?
When someone asks you to do something you don't feel like doing, do you fabricate some story or excuse? In other words, do you lie?
Chances are you do, or have in the past. Or, like me, maybe you've been doing it so long you don't even realize you're doing it.
It doesn't mean you're a bad person, we just want people to like us. It's natural to think that by telling someone you have to mow your lawn will hurt their feelings less then "I don't feel like hanging out with you."
Just Say No, You Don't Have to Lie Anymore
In the summer of 2006, shortly after starting my journey into self-discovery, I was working for a friend installing radon mitigation systems in residential homes. I was scheduled to do an install one week and decided to blow it off because I just didn't feel like doing it. So I rescheduled for the following week.
When I met the homeowner for the install, I apologized for rescheduling, explaining that I had an emergency and needed to leave town the previous week. As I returned to my truck to fetch my tools, I wondered why I had lied about something so trivial. Why didn't I just apologized and shut up; why did I feel like I had to give an excuse at all?
What happened next was sort of mind-blowing. Every conversation where I had lied flew through my brain at lightning speed. I realized I had been lying about trivial things as long as I could remember.
A few weeks later I did it again when a friend asked me if I wanted to go see a movie. Having groceries in the car, I made up some story about needing to get home before the ice cream melted. That was a lie, there was no ice cream; I just didn't feel like hanging out with her at the time.
When she asked me what kind of ice cream I had, I stalled her with a question, "what?" to give my brain time to come up with a flavor, "rocky road."
It shocked me at how natural this behavior was for me. This time, I called my mentor and life coach and shared my new found introspection. He reminded me that it's not my job to manipulate how others view me, that just being me and loving myself was enough.
Moreover, I was officially given permission to use the word "no", and then shut up after that and not feel like I had to give an excuse.
Loving yourself is enough. You cannot alter the lens of others in an attempt to manipulate the way they view you as a person.
"You cannot alter the lens of others in an attempt to manipulate the way they view you as a person." – Click to Tweet
Loving Self Is Unnatural
Loving self does not come naturally for most. Or, as in my case, confusing self-love with an inflated ego.
Learning to love yourself is to accept who you are unconditionally. It means accepting the consequences of being you. It's about giving up on who you think you're supposed to be, how others view you, and becoming who you were meant to be. It's living true to your authentic self.
You need to start treating yourself like you would a good friend.
Awesome Tip On Loving Yourself Today
For this to work, you need to accept and acknowledge that you're in a place in your life where you don't particularly want to be. At least for today.
This can be emotionally, financially, geographically, or all of the above. However, I'm putting a stake in the ground here and suggesting that if you concentrate on the emotional part (whether you think that's your problem or not) the other areas will take care of themselves.
Action: Write down one thing you dislike about yourself in this moment. It can be anything from physical attributes to character traits.
Here's mine: I have a small noggin. Yes, my head (to me) looks unusually small. Just last week at the gym I realized that as I'm starting to "bulk up" a little bit, it's just making my head look smaller. OK, I'm actually laughing at myself now as I type this…
Next, write down the following sentences filling in the blanks:
I am not the only person in the world with ________.
Is there anything I can do right now about ________?
If there is something I can do, it is ________.
If there is nothing I can do about ________, I know it does not define me as a human being, today I will let it go and know that I am loved.
That's it. Take some action if there's something you can do. If not, let it go. Just for today, imagine it as a balloon that's floating away into the blue sky.