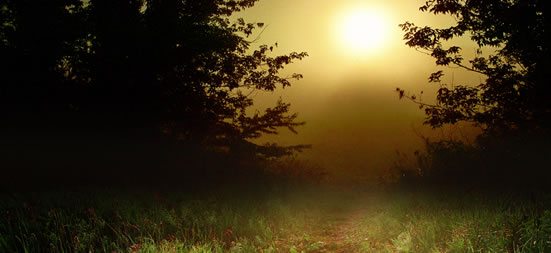 I've been searching for practical tools and exercises on how to best initiate the walk along a spiritual journey or path for quite some time. A few days ago, after reading his free report on transforming fear, I came across Dr. Tim Ong's eBook "From Fear to Love: A Spiritual Journey."
I come across products like this all the time, yet I've always felt that a spiritual journey is too intimate or personal to put into a one-size-fits-all type program. And as I've discussed some ways to increase our spirituality through practical prayer, and other techniques on spiritual growth, I was still in search for something easily understood that could be practiced by anyone from any faith or walk of life. So I decided what they heck, what do I have to lose? So I purchased this product and gave it a thorough review. I must say I was really impressed.
I did not read through his long sales page, I see those all the time (and think they're cheesy and tacky!)  and just wanted to get my hands on the material. I didn't realize until I purchased the ebook there were 15 bonuses with this product. Yes 15! I haven't even read through them all yet but they include one of my favorite readings of all time, As A Man Thinketh by James Allen and many others. Check out the sales page for a full list but there's enough stuff there to keep you busy for weeks; great stuff actually.
Now for a quick review of "From Fear To Love: A Spiritual Journey."
Dr. Ong is a medical doctor trained in western medicine and talks about—not until recently—has western medicine fully embraced spirituality and it's ability to enhance physical health. It's interesting to hear Dr. Ong give testament that many of the physical illnesses he has treated as a physical illness were not physical at all, but "unresolved emotional or mental issues" that manifested as physical symptoms.
I believe that one day all our scientific studies will verify this truth – that we ARE spiritual beings!

To date, medical science has not acknowledged this. In fact, medical science has been slow to even suggest this. There is still a lot of resistance within the scientific community to merge science with spirituality. Nevertheless, we are getting there. As a medical doctor, I have always been in a dilemma as to how to approach this.
Dr. Ong explains how he set out to test a theory that our spiritual nature is perfect. That we are spiritual beings and posses a natural state which brings us total happiness and calm. He outlines an experiment he conducted on himself to help discover what it means to walk a spiritual journey. He started in September of 2004 and his experiment was based on five beliefs:
1. We are spiritual beings.

2. Our spiritual nature is perfect. It has been described by the mystics in many ways, such as a state of enlightenment, unconditioned, luminous, unconditional love, unborn, God, Nibbana. In this natural state, we are free from fear, doubt, insecurity, needs or wants. We lack nothing. In fact, this nature is complete and all-embracing.

3. We are now unable to experience this pure state because of the imprints, defilements, unskillful habits and patterns of thoughts that we've accumulated over and over again. These imprints or defilements lead to mental tendencies and habits that obstruct our awareness of our true nature.

4. Diseases and illnesses, whether physical, emotional or mental, is a reflection of the disruption to our natural state.

5. To heal ourselves, we must realize our true nature. To re-experience our natural state, we must purify ourselves through removing all our defilements in thoughts, words and actions. The more we purify, the more we can re-experience our true nature.
Some more things I really found helpful in this book…
Dr. Ong's view on why so many of us balk at the idea of committing to our own spiritual journey—even after hearing from so many that it is the way to happiness!
1. We do not have enough faith that we can achieve the ultimate liberation they spoke of. It seems so farfetched and impossible to achieve. Therefore, we don't even try.
2. We are lazy. To achieve what the ancient sages and mystics have achieved required that we spend a lot of time and effort training our mind, and this is much harder than just doing what we have been doing everyday.
"Doing what we have been doing everyday" Doesn't that sound so familiar?  Like looking for happiness in people, places, and things.
I could relate to what he was saying. Even though I agreed or even witnessed what a spiritual life had brought to some; I felt it I didn't need it, that I could manage just find on my own. Or maybe I felt it was for the weak willed or that being spiritual meant losing my identity or ultimately, control. Since I have began my spiritual journey, nothing else could be farther from the truth. On the contrary, I have gained more sense of identity, freedom, and unconditional love and happiness in my life then I ever dreamed possible.
The true happiness that has come with pursuing a life based on spiritual principles is incomparable to my previous life.
Dr. Ong really sums it up with this statement on page 11 of this 150 page ebook:
If we want to achieve lasting happiness, we must give it a try – and try with full honesty and persistency. After all, no one has come up with any other alternatives that work. And all those who have seriously treaded the spiritual path have achieved a higher level of self awareness and contentment.

I think it's worth a shot, don't you?
OK, more good stuff (what I've shared so far about this book is amazing and I'm not even past chapter one!)
Dr. Ong continues on with a specifically laid out plan of how we can rid ourselves of negative imprints in our thinking. Imprints that "are like paths in a virgin jungle. Once they are created, we just simply follow the existing paths instead of creating new paths, new possibilities."
Dr. Ong next goes into great detail of how Self-Awareness and Letting Go are critical in cultivating these new paths and developing along our spiritual journey.
One thing I found most useful and awesome, is Dr. Ong doesn't simply say… "OK, be self-aware and start letting go." He lays out a "Game Plan" and breaks each one down and how they fit into the four foundations of mindfulness. I love practical advice on how to achieve things that seem intellectual or theoretical. Anyone can say, "you need this to succeed" but show me how!
The Psychology of Fear section is interesting as well. "Like Fear is, for the most part, not a condition we are born with. It is learned." OK, not rocket science but after all he's a doctor.
He then goes into detail about fear, revisiting some information we covered on overcoming fear.
While reading I kept saying to myself, "that's it, that's the key" and "yes, I've experienced that myself." It's really good stuff, honestly. I wanted to include a lot of the material here, and every few sentences or paragraphs I was making notes to include in this review. But I kept having to remind myself, why re-write the eBook, why not just let everyone read it for themselves.
The regular price for this ebook is $37, but you can get it from this link for $27. I do get an affiliate commission if you purchase the eBook, but I think it's worth it and seldom—actually this is the first time ever—have I recommended any of my readers to purchase anything. So it's worth it to me to pass on this great information to all of you. After all, why wouldn't I want to share something with you that I found very helpful!
photo credit: James Jordan